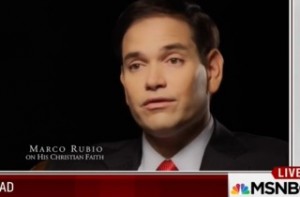 Florida senator Marco Rubio is running for president of the United States, which is a country that maintains a fundamental separation of church and state through a little thing called the First Amendment of the Constitution. If someone were to watch his most recent ad, they'd see that he is indeed running for president, but they might miss that second part.
Today on MSNBC's Morning Joe, Joe Scarborough and Mika Brzezinski were on hand to show the latest ad and share their thoughts on it.
The spot was released ahead of the Iowa caucus to court the state's evangelical voters and its overtly Christian dialogue is as follows:
"Our goal is eternity, the ability to live alongside our Creator and for all time, to accept the free gift of salvation offered to us by Jesus Christ. The struggle on a daily basis as a Christian is to remind ourselves of this. The purpose of our life is to cooperate with God's plan. To those who much has been given, much is expected, and we will be asked to account for that. Were your treasures stored up on earth or in Heaven? And to me, I try to allow that to influence me in everything that I do."
Pretty heavy stuff, right? The hosts seemed to think so, with Brzezinski asking, "Well, how was that?" and Scarborough answering that he thinks Rubio would make a great pastor at his church, but later saying that even he, as a highly religious person, would never have run such an ecclesiastical ad in a presidential campaign.
"We are just so cynical," Brzezinski sighed. Scarborough, still shocked by the direct religiosity of the ad, insisted that they weren't cynical, but that he had heard this type of Jesus-first rhetoric from losing candidates in other races.
"Listen, don't be condescending to [the Evangelical voters], okay?" he said. "You just have to let them know that you understand their way of life is under attack and you're going to fight for them when you go to Washington."
The New York Times's Jeremy Peters then pointed out that while Rubio and his family have always been pious, it has been a quiet, "pan-religious" faith that the candidate was never entirely comfortable using for political gain. This ad, then, signals a new direction in the Rubio campaign as the Republican party makes its steady trek toward Iowa.
"I don't know how this will work for Marco, but it's breathtaking," concluded charitably.
Image via screengrab.
For more from Lindsey, follow her on Twitter.
Have a tip we should know? tips@mediaite.com