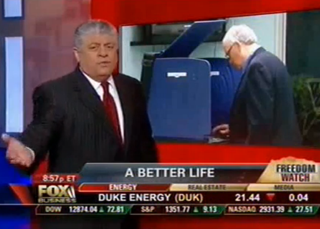 Judge Andrew Napolitano closed his show, Freedom Watch, tonight with the same message of awareness of civil liberties and adherence to the ideals of the founding fathers he did every night since the show went on the air in summer 2010— except this time, it was the last time the show would air a new episode. Starting this month, Freedom Watch will be replaced by reruns of The Willis Report.
RELATED: Fox Business Network Drops Bolling, Napolitano Shows In Primetime Shuffle
Judge Napolitano ended with an interesting statistic on the American Revolution– not that many Americans supported it at the time. In fact, only about a third of them did. "The founding fathers risked their lives, their fortunes, and their honor," he noted, "[but] they were not saints, and originally their cause was not popular." He noted that their government was not the sort around today, the kind that regulates "the water pressure in your shower to the size of the toilet in your home to the thickness of the leather in your shoe." "Defending freedom– everyone's freedom, whenever I can," he signed off,
I had been following Freedom Watch since it was a web-only series whose guests were almost all in-house talent, when it was the sort of cable news space where opposing same-sex marriage was called a "socialist" point of view and, more than anywhere else on cable news, Rep. Ron Paul and his wing of the American right were welcomed as allies, not potential traitors. At the same time, the diversity of guests was impressive– from Arianna Huffington to Sarah Palin to Julian Assange, and all got treated just as fairly. Tonight, Freedom Watch— along with Follow The Money later in the night– leave this world for the Cable News Network in the Sky, to rest alongside Crossfire, Hannity & Colmes, and The Situation with Tucker Carlson. Judge Napolitano will still be a presence on the Fox networks– as will, likely, many of his regular guests– but nonetheless, the show will be missed.
Watch Judge Napolitano sign off (via Fox Business) below:

Have a tip we should know? tips@mediaite.com