Weiner Gets Testy With GOP Rival In Hot Mic Moment: Deal With Your Anger Issues, 'Grandpa'!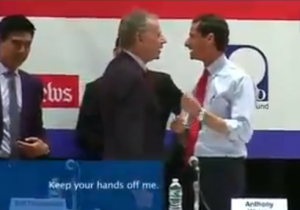 Word of advice to any politician attending an event sponsored by the AARP: don't insult your opponent for their old age. But Anthony Weiner did just that last night, when he got heated with Republican rival George McDonald in an open mic moment picked up by NY1. McDonald got annoyed when Weiner touched him, and the two candidates got testy with each other right in front of a microphone, culminating in Weiner snidely calling McDonald "grandpa."
Last week McDonald let loose on Weiner and called him a "self-pleasuring freak," not to mention his wife had a few choice words for Weiner's "persistent and compulsive objectification of women." So he clearly doesn't care much for Weiner, but yesterday's spat was ignited, as Reuters reports, from a friendly pat Weiner gave to wish him luck.
Here's the full exchange that ensued:
MCDONALD: Keep your hands off me.

WEINER: I heard what you said.

MCDONALD: Don't put your hands on me ever again.

WEINER: Really? What's going to happen if I do? Tough guy now?

MCDONALD: Yeah. Yeah, I am.

WEINER: [inaudible]… but your anger issues…

MCDONALD: I don't have any anger issues.

WEINER: But you do, grandpa.
Again, this happened at a forum sponsored by the AARP. And as you would expect, the AARP wasn't too happy about that. AARP state director Beth Finkel said today Weiner's comments were "unfortunate," maintaining the group's message that age "should not be a factor in politics, or anything else."
Watch the video below, via TV1:
—–
Follow Josh Feldman on Twitter: @feldmaniac
Have a tip we should know? tips@mediaite.com
Josh Feldman - Senior Editor