Limbaugh Takes On 'Myths' About Fox: 'They Have One Really, Full-Fledged Conservative Show'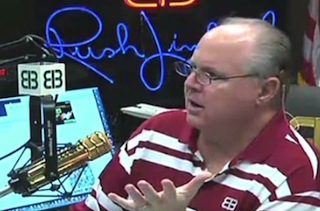 Conservative talk radio host Rush Limbaugh dove into what Amazon.com CEO Jeff Bezos purchase of The Washington Post means for the future of journalism on Wednesday. He said that Bezos, a customer service specialist, would change a culture in the media which dislikes much of its audience, e.g. middle America. Turning to how people feel about Fox News Channel, Limbaugh said that it is a myth that the network is conservative – merely, that it is just perceived to be a conservative network because it is not a liberal network.

"He's a genius in the sense that he recognizes what all business operators that have come before him recognize," Limbaugh said of Bezos. "And that is, you thank God for your customers every day. And you constantly appreciate them and you try to increase them."
"You don't insult them. You don't laugh at them. You don't act like you wish they weren't around," Limbaugh continued. "Until that change in the news media, you can have all the business models you want – isn't going to matter a hill of beans."
RELATED: Scarborough And Brzezinski Clash Over Whether MSNBC And Fox News 'Exactly The Same'
A producer later told Limbaugh that Fox News Channel insults half of its audience as well when their hosts advocate for conservative policy objectives. Limbaugh disagreed with this assertion.
"They do not," Limbaugh shot back at the unheard producer. "Fox News doesn't insult half the country."
"They've got one conservative – one really, full-fledged conservative show on that network," he continued. "The network's perception is that it's conservative simply because it's isn't liberal. But they have liberals all over the place at Fox News."
"They've even hired liberals from the New York Times to appear on their number one news shows," Limbaugh continued.
Listen to the clip below via The Rush Limbaugh Radio Show:
> >Follow Noah Rothman (@NoahCRothman) on Twitter
Have a tip we should know? tips@mediaite.com