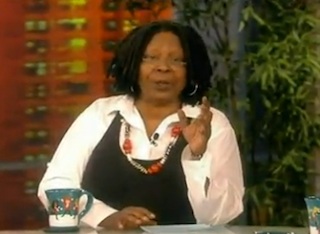 Last Friday, the entire blogosphere went crazy because it was possible that Whoopi Goldberg farted on live TV (what can I say, bloggers just want to go home for the holidays too). Today during the opening few minutes of The View, Goldberg discussed the incident during some of the most ridiculously funny television you're going to see all week. Seriously, I want every day to start with someone doing a Zapruder film analysis of a fart joke.
Whoopi Cushion: Did Whoopi Goldberg Just Fart On The View? Again!?
Goldberg explained that deep down she was a "little kid" who sometimes forgets she's hosting a TV show and just wants to make fart jokes. To prove her point, she opened the segment with a string of fart puns good enough to enchant even the pickiest 12 year old. She then showed the original clip over and over again, zooming in to show that, indeed, she had made the offending noise with her mouth. Still, the news had gotten out there.
"The truth of the matter is, you know, listen, we got questions from all kinds of people. When we told them what we had done, what I'd done, they went ahead and printed it anyway. They ran with it anyway. You know what, look, I know there are times that I'm as silly as can be. Sometimes, it's just appropriate. I was in the mood."
The whole segment (which also included Goldberg's thoughts on replacing the word "fart" with "tree frog" and a discussion of what sounds the View couch makes and why they didn't make any when Tom Cruise jumped on the damn thing) was pretty hilarious.
You can watch the clip below. I also included the show's opening because, like Whoopi, I'm a little kid at heart and hearing the View announcer tease this segment in his serious voice cracks me the hell up.
Have a tip we should know? tips@mediaite.com