Fox's Doocy: Get Ready for Obama to 'Change the Subject' From Website Failure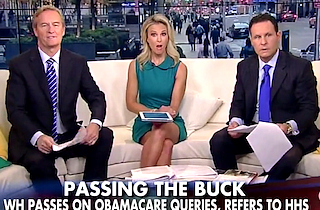 On Wednesday morning, the hosts of Fox & Friends predicted that the Obama administration would try to avoid answering questions on the Affordable Care Act exchange website failures by distracting the press and the public with other topics.
"This is going so badly for the White House, I wouldn't be surprised if they tried to change the subject somehow," co-host Steve Doocy said. "You look, in the next couple of days, if they try to engineer something to put the Affordable Care Act on the back burner. Because this thing that they got going right now, the headlines in every newspaper, and you just saw the White House yesterday, where everybody is asking these questions, that are simple questions the White House won't answer about why it's not working. They want to change the subject. I bet they try in the next couple days."
Co-host Brian Kilmeade noted that if the administration wasn't aware of the software problems as they'd claimed, so much the worse for them, as they could have taken advantage of the shutdown to buy themselves a delay.
"Let's think about the big picture," Kilmeade said. "If all this stuff is going wrong and the delay is absolutely necessary—why, when this government was shut down, negotiations were going on, wouldn't the president be somewhat savvy and coy and say, 'Listen, you want delay, not defund? I can deal with delay.' It would have played to the president's strength, which is about to expose his major weakness."
"Then that would mean that he would have to say, essentially, the Republicans were right," Doocy countered. "We should delay this because it is not working out. There is a big difference between the right thing to do and the political thing to do. This White House seems more interested in the political stuff."
Watch the full clip below, via Fox News:
[Image via screengrab]
——
>> Follow Evan McMurry (@evanmcmurry) on Twitter
Have a tip we should know? tips@mediaite.com