Gambling Regulators Are Actually Considering Slot Machines That You Play Like a Video Game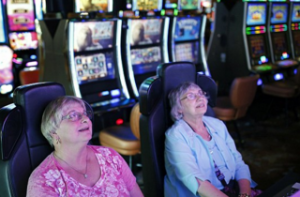 Today the Massachusetts Gaming Committee is meeting to discuss whether or not gambling machines made to look and play like real video games are a good idea for the state's casinos. They're not the only state considering allowing classic games and ones modeled after currently trendy phone applications to stand alongside traditional slots.
As the AP reported, Marcus Prater, executive director of the Association of Gaming Equipment Manufacturers, is worried that millennial casino-goers skip over the slot machines because they view them as outdated. "Skill-based" slot machines that mimic games like Angry Birds, pinball, Pac-Man, and Guitar Hero are intended to reel in that demographic.
He said, "This is something totally new. Players have never had the option, in any market in the world, to influence the outcome of the game."
The only reason that the new roll-out isn't on like crushing debt Donkey Kong, though, is that there are anti-gambling advocates who insist that games meant to look like kids' games will blur the line between recreational fun and gambling, taking out an element of seriousness. Previous attempts to marry casual activities with gambling have ended poorly for other companies and regular video games already get enough pushback for these same reasons.
They're trying to find new ways to get people hooked on gambling. It's an incredibly predatory business for that reason," explained Les Bernal, national director of the Massachusetts-based Stop Predatory Gambling.
Nevada and New Jersey have heard the concerns of those who believe gamblers will interpret Sonic's "gotta go fast" as "gotta go broke." There are regulations and laws already in place in those states, in spite of the fact that the machines haven't hit casino floors yet. Pennsylvania, New York, and Maryland have all begun to consider these skill-based games, too, though no laws or regulations have been made.
As for Massachusetts, a 2011 law included provisions for this type of game, so all that is needed now is a set of regulations and for someone in a position of power to pull the lever and launch the ball.
[image via screengrab]
For more from Lindsey, follow her on Twitter.
Have a tip we should know? tips@mediaite.com