Katy Tur Barely Contains Laughter During Segment on the Political Juggernaut That Is Gritty the Mascot
Tonight's MTP Daily ended with a light little segment on the beginning of a surprise political movement that no one saw coming: Gritty.
And Katy Tur absolutely could not stop laughing.
See, it turns out that Gritty––who went from Philadelphia Flyers hockey mascot to all-purpose meme in record time––received a couple of write-in votes in races across the country. (Some people touted a report that Gritty supposedly got 69,000 [nice] votes in Pennsylvania, but alas that was a hoax.)
And clearly MTP: Daily staffers had waaaaaay too much Photoshop fun today. This is just one of the mock-ups displayed on screen for the "Gritty Revolution":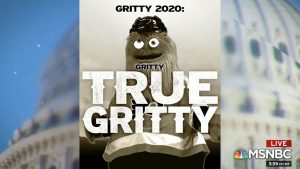 You can watch above, via MSNBC.
[image via screengrab]
Have a tip we should know? tips@mediaite.com
Josh Feldman - Senior Editor