Roger Ailes Wife Cuts Off Newspaper Subscription Of Husband's Unauthorized Biographer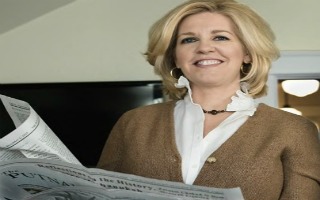 Eric Wemple, Washington Post reporter on news and media, writes on Tuesday that Fox News Channel chief Roger Ailes' wife Elizabeth became so frustrated with her husband's unauthorized biographer, Gabriel Sherman, that she cut off his subscription to a newspaper she runs.

RELATED: Roger Ailes Fudged Facts When He Called NYT Reporters 'Lying Scum'
Wemple writes that Elizabeth Ailes cut off Sherman's subscription to the community newspaper, the Putnam County News and Record, when she became frustrated with his efforts to compile information on her family:
"I don't want to get into a financial transaction with him and his credit card," Elizabeth Ailes told this blog.

It's her prerogative to cancel the subscriptions of anyone she doesn't like. It's Sherman's prerogative to write about the experience.
Wemple writes that The Five co-host Andrea Tantaros took to twitter yesterday to denounce Sherman who she referred to as a "harasser" and a "stalker."
The "harasser" @gabrielsherman of NY Mag stoops 2 new low going after Roger Ailes' wife. What do u expect from a Soros puppet?

— Andrea Tantaros (@AndreaTantaros) June 5, 2012
Fox News CEO is one thing, his family – private citizens- is another But not to the harasser @gabrielsherman, aka stalker media. #waronwomen

— Andrea Tantaros (@AndreaTantaros) June 5, 2012
Wemple writes that Sherman secured a New America Foundation fellowship for 2013 which led Tantaros to call him a "Soros-puppet." He writes that Ailes is working with Fox reporter Jim Pinkerton on his authorized biography. Pinkerton, too, worked with the New America Foundation "off and on" between 2000 and 2009. "Ailes' own book is in the hands of a former Soros puppet," writes Wemple.
I've reached out to Fox News in an attempt to learn just what Sherman has done to qualify as a "harasser," beyond conveying to the public the fact that he can no longer get his fix from the Putnam County News and Recorder. No word yet from Fox, and Sherman declined comment for this post.
h/t TV News Insider
Follow Noah Rothman on Twitter
Have a tip we should know? tips@mediaite.com