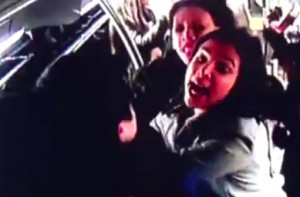 Three college students who sparked a campus protest movement and earned the support of the SUNY Albany administration were indicted Monday after a grand jury found they likely fabricated a racial hate crime.
20-year-old African-American students Ariel Agudio, Asha Burwell and Alexis Briggs alleged in January that they were the victim of a racially-motivated attack. "I can't believe I just experienced what it's like to be beaten because of the color of my skin," Burwell tweeted. She went on to claim white passengers used the n-word against her.
I just got jumped on a bus while people hit us and called us the "n" word and NO ONE helped us.

— Asha Burwell (@AshaBurwell) January 30, 2016
That allegation went viral when her brother, NFL offensive lineman Tyreek Burwell threatened a man he claimed was behind the attack on Twitter. "Hope the police find you before I do," he warned.
SUNY Albany was fully behind the girls, and #DefendBlackGirlsUAlbany trended on Twitter. "I am deeply concerned, saddened and angry about this incident," said president Robert J. Jones. "There is no place in the UAlbany community for violence, no place for racial intolerance and no place for gender violence."
But when police reviewed the bus surveillance tapes, they found that it was the girls who instigated the altercation with others passengers. There was a racial slur used during the fight… but it was one of the girls calling a passenger a "white bitch."
The students each face a charge of third-degree assault and falsely reporting an incident. Both are class-A misdemeanors and carry a maximum of a year in jail and a $1,000 fine.
[Image via screengrab/WTEN]
——
>>Follow Alex Griswold (@HashtagGriswold) on Twitter
Have a tip we should know? [email protected]
---