A Muslim Girl in Virginia WAS Actually Chased By A Vehicle And Killed… But By An Illegal Immigrant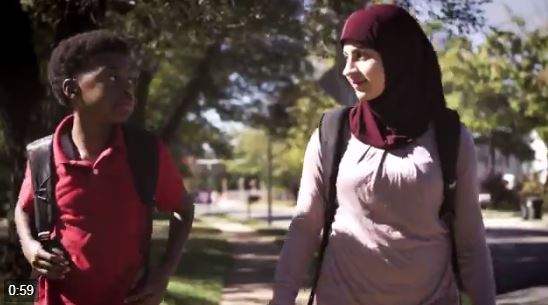 All of political punditry is buzzing over the controversial television ad released by a group called Latino Victory Fund on behalf of the campaign of Lt. Gov. Ralph Northam, a Democrat running for Governor of Virginia.
Ironically, the horrific, make-believe crime depicted in the ad mirrors an actual crime in Sterling, VA where the victim was a young Muslim girl wearing a hijab.
The ad, as we described earlier today, depicts  a white man driving a pick-up truck with a Confederate battle flag flying alongside a "Gillespie for Governor" sticker on its rear bumper. Minority children, including a young girl wearing a hijab, run for their lives in a peaceful neighborhood as the truck speeds through the streets trying to mow them down.  The voice over at the conclusion of the horrific scene intones "Is this what Donald Trump and Ed Gillespie mean by 'the American dream?'" as they implore voters to "Reject Hate" on election day next week.
The Northam campaign and Latino Victory Fund rationalize the despicable attack ad on Gillespie, a moderate Republican, because he has made Northam's support for sanctuary city laws a central part of his campaign. Gillespie has argued that sanctuary city laws prohibit local law enforcement from fully cooperating with federal immigration officials and the result is that more violent criminals, like MS-13 gang members would be on the streets.
As nationally syndicated radio host Chris Plante observed earlier today on WMAL in Washington, Northern Virginia actually experienced a recent murder involving a young Muslim girl wearing a hijab who was chased down by a suspect in a vehicle. According to police reports the suspect then abducted and murdered the young girl with a baseball bat.
The suspect is an illegal alien.
The murder gained national attention when it first occurred because the assumption was that the Muslim girl was murdered because of the outward sign of her religion:
The man suspected of killing a 17-year-old Muslim girl with a baseball bat as she walked back to her Virginia mosque after breaking her Ramadan fast is due to appear in court on Friday.

Darwin Martinez Torres, 22, is accused of killing Nabra Hassanen near the All Dules Area Muslim Society (ADAMS) mosque in Sterling, Virginia. The June 18 incident allegedly occurred after Torres got into an altercation with a group of teenagers walking to the mosque after breaking their fast at a nearby McDonald's.

Members of Hassanen's family have said they believe she was targeted because she was Muslim, but police have maintained there is no evidence the attack was a hate crime.
Once it was discovered that the murder was not a hate crime and the perpetrator was in the country illegally, the national media seemed to lose interest.
"On June 19, ICE lodged a detainer on Darwin Martinez Torres, a citizen and national of El Salvador, with the Adult Detention Center in Fairfax, Virginia. ICE lodges detainers on aliens who have been arrested on local criminal charges when the agency has probable cause to believe an alien is removable from the United States. Mr. Martinez Torres has no prior encounters with ICE," an ICE spokesperson stated.
Which brings us back to the irony of the Northam campaign and Latino Victory Fund and their rationalization for running the controversial ad against Gillespie.   Their argument is that Gillespie is creating a climate of hate and fear by opposing sanctuary city laws and making Northam's support of such laws central to his campaign.
The same sort of laws that could shield the Darwin Martinez Torres's of the world from deportation keeping them on the streets and behind the wheels of their vehicles. So they can chase down little girls wearing a hijab, like Nabra Hassanen.
As of the publishing of this article, Lt. Gov. Northam refuses to condemn the ad.
This is an opinion piece. The views expressed in this article are those of just the author.