Here's the Real Truth about Colin Kaepernick that the Media Is Pretending Doesn't Exist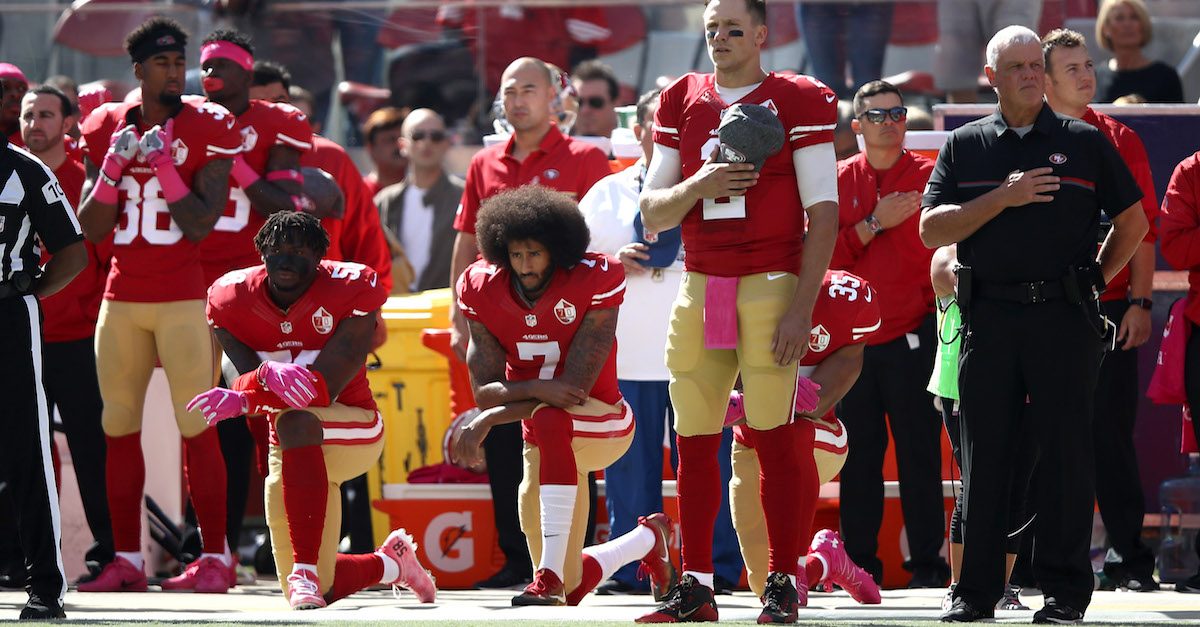 We currently live in a news world which is almost literally upside-down, where the real truth any controversial matter, for reasons usually related to political correctness, is very often the exact opposite of its perception. The facts strongly indicate that this happening in the never-ending saga of former NFL quarterback Colin Kaepernick, who is now the subject of a very high profile Nike ad campaign, which is intended to take advantage of his status a liberal martyr for the cause of kneeling during the national anthem.
There are many aspects of this story which, led by a sports media that is probably even more liberal/PC than the mainstream news media, have been misreported. However, at its core is the issue of whether Kaepernick has been "blackballed" by the NFL because of his protests, allegedly over police brutality, which the Nike ad plays right into by claiming that he is "sacrificing everything" for his cause.
This entire premise is obvious bullcrap on every level.
Since the sports media is presumed, often wrongly, by most people to at least understand sports, the issue of whether Kaepernick is even good enough to be on an NFL roster, even without the significant political baggage which he now brings, has been mostly overlooked because they have testified on his behalf on that issue. The reality is that the totality of the evidence easily brings this widely accepted conventional wisdom into grave question.
The truth is that, for two years, 2012 and 2013, Kaepernick was indeed a top NFL quarterback. He took a San Francisco 49ers team, which had already gone to their conference championship in 2011, to a near Super Bowl victory in 2012, but after that he went into a steady, and rather predictable, decline.
Part of what has not been explained about Kaepernick the player is that his style of playing the position, as a running quarterback, was rather unique. This was great when it is new because defensives didn't know how to prepare for it. However, NFL defenses are famous for catching on to how to stop the new flavor of the month, and on the inevitable downside of this evaluation such a player actually becomes a liability because they require the entire offense to be built around them, or it doesn't work at all.
After the height of his breakout 2012 season, Kaepernick's statistical production fell significantly for three straight years and the team got worse each season. It was only at THAT point, with his starting position, and maybe even his roster spot, clearly in jeopardy, that Kaepernick suddenly became a political activist, kneeling for the national anthem during preseason games and, surely by coincidence, letting his afro grow out.
Even at that time, informed cynics concluded that this was all a contrived attempt by Kaepernick, playing in the most liberal city in America, to cloak himself in a popular progressive political cause, either as protection from getting cut, or at least to provide an excuse for why his once promising career had flamed out so quickly.
In 2016, he lost his starting position in the midst of the controversy, but kept his spot on the team as a backup. A third of the way through the disastrous year, he was named the starter again and his stats got better, but that was incredibly deceiving. The 49ers were so bad (they went 1-11 in the games he started, with the only victory coming by one point over a terrible team) that they were always behind, thus making it easy for him to pad his passing stats against "prevent" defenses.
At the end of that dreadful season, the fourth consecutive campaign in which his team had won fewer games than the year before, his head coach and general manager were both fired. Kaepernick, as would have been the case in any remotely similar situation without the anthem controversy, did not return for the 2017 season.
Now, much has been made of the fact that no other NFL team has ever signed him, with the presumption that this is the NFL punishing him for his anthem protests. Kaepernick is currently suing the league for having allegedly colluded against him. However, if the league has indeed "colluded" against Kaepernick (this is surely possible), it is mostly because there is no team which has the incentive to sign him, even without the headaches of his political celebrity.
While Kaepernick may be better than some of the lame backups currently holding jobs in the NFL, that is not how this system works. Being one of the best 64, or so, quarterbacks in the world does not assure you an NFL roster spot, especially if you are not the right fit for a franchise in need of your services. For instance, former Dallas Cowboy star Dez Bryant, clearly one of the top 150 wide receivers in football, does not currently have a job, largely because he is too expensive and brings baggage of a different variety.
There is simply no specific team that that should sign a player like Kaepernick, who has won only a handful of games in the last three years, to a backup role when it would require them to blow up their whole style of offense to accommodate him if their starter ever got hurt.
Therefore, the entire foundation of Kaepernick's martyr status and the Nike ad campaign is as bogus, if not more so, then the false premise that Donald Trump understands business because he is supposedly super rich. Instead, this is likely what really happened here:
An NFL player who never showed any interest in being an activist, saw the handwriting on the wall that his career was in peril, he then brilliantly contrived these protests as personal protection and an excuse, and it went far better than he ever imagined it might have, largely because of the election of Donald Trump, who has used this issue to continue his decades long vendetta against the NFL. Kaepernick is now a social hero, and even if he doesn't win his lawsuit against the NFL (I predict a settlement), he is making far more money now than he would have been today if this controversy had never erupted. Kaepernick has "sacrificed" nothing, the sports media gets an evergreen topic to virtue signal about whenever they need to, Trump gets to renew his boogieman to distract his base and take advantage of racial divisions, while Nike gets to associate itself with the "resistance" against Trump, while actually doing him a big favor.
Winning…
John Ziegler hosts a weekly podcast focusing on news media issues and is documentary filmmaker. You can follow him on Twitter at @ZigManFreud  or email him at johnz@mediaite.com
[Photo by Ezra Shaw/Getty Images]
This is an opinion piece. The views expressed in this article are those of just the author.