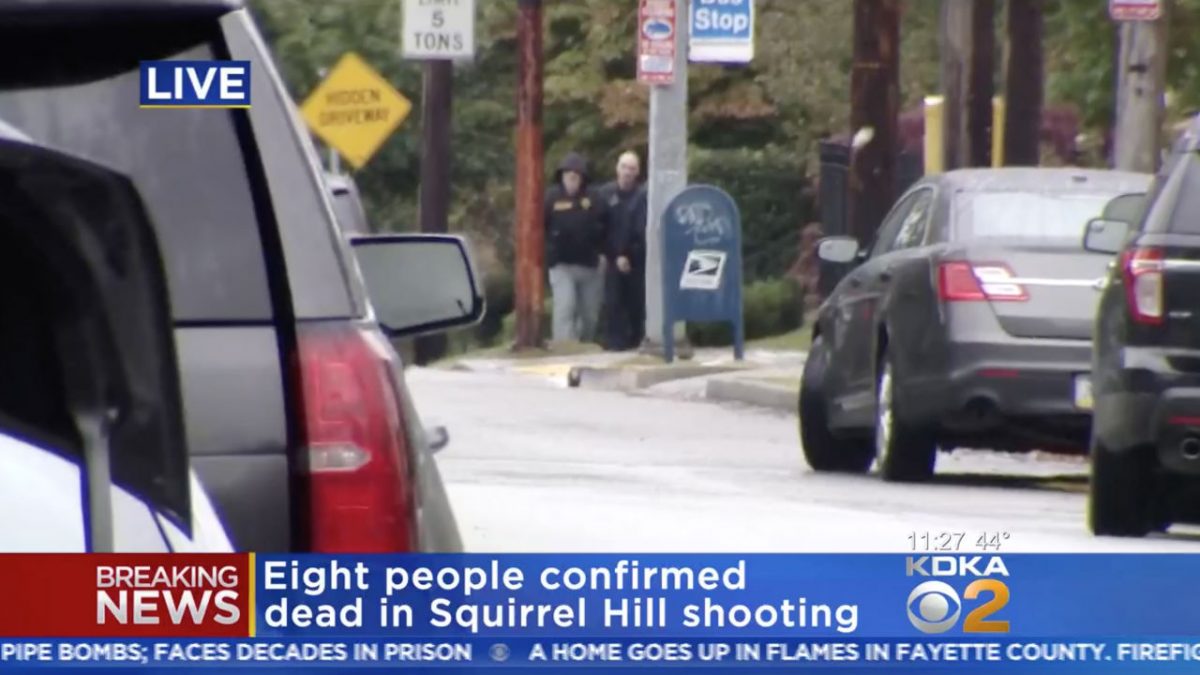 One of the more popular stereotypical murmurings about the Jewish people is that they run the media. This isn't entirely untrue: In a large proportion, Jews have flocked to journalism to tell their stories and the stories of others, because that's in large part a major tenet of Judaism: to tell stories so as not to lose them to the abyss of history.
Eleven Jewish lives were taken in America on Saturday by a crazy gunman in a synagogue in Pittsburgh. We are now learning about these 11 snuffed out flames, how they strived to live well and to help others, and how they, on a Sabbath day in October, went to temple to worship, to sing, and to enjoy the community of other Jews.
The alleged gunman, Robert Bowers, has an active license to carry firearms and has purchased at least six weapons in the last 20 years. In other words, the weapons used to carry out the massacre were legally purchased and legally owned. The President said that current gun laws had "little" to do with the tragedy, but when legal gun owners can do things like this, is it truly within the realm of reasonable thought that our current laws are not deeply, miserably flawed?
The Jewish people have not been silent by any means when shootings have taken place throughout our country, and Jews have been among the victims in several of these shootings, including in Parkland, Florida and in Newtown, Connecticut. But this is a moment of reckoning for the Jewish people. This day in the history of the fight against gun violence is very much about the response of the American Jewish community. They have that disgusting yet all too necessary limelight cast by mass shootings. It may also – we can only hope – be that community's only moment to have their voice heard clearly in the political realm on gun violence. The question is: What will they say? And more importantly: Will whatever they say finally make a difference because of the Jewish community's unique place in media and government?
A large chunk of President Donald Trump's inner circle is Jewish. A large chunk of media personalities and moguls are Jewish. Does that count for anything? Does an attack specifically on the Jewish people in America – America, the one place in which Jews have not faced a modicum of the hatred, vitriol, and violence thrown their way in essentially every other country in the world – amount to a unified call to action that will actually change the course of events that have needlessly killed so many in our so-called civilized nation?
If so, we will soon see an outcry from all American Jewish organizations, backed by prominent people in our society, for common sense gun reform. This outcry has the potential to be different from the others because it will come from the top and the bottom, not just bottom to top. A federal assault weapons ban may also be a point of contention. Jewish advocacy is a strong force – if it's used to combat gun violence, we may actually see a sea change that even a march of thousands of young men and women on Washington, DC couldn't bring about on its own.
Bear in mind also that the Jewish people are a significant voting bloc. If they decide that gun control is as significant an issue as Israel, politicians – especially conservative politicians – will have to react accordingly. Pro-Israel agendas are historically conservative, and gun control is historically liberal. If Jews speak up on gun control with one voice, we may see an unprecedented shift in conservative talking points to keep the Jewish vote on their side.
Jews may take the words of the rabbi Hillel to heart: "If I am not for myself, who will be for me? If I am only for myself, what am I? And if not now, when?"
[featured image via screengrab]
This is an opinion piece. The views expressed in this article are those of just the author.