According to Al Jazeera, Feminists Should Watch Wonder Woman in Gaza
The militant anti-Palestine track record of the film's lead isn't feminism.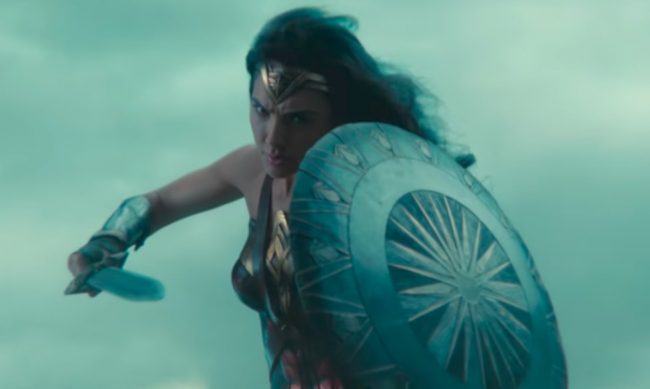 As of Sunday, Patty Jenkins' Wonder Woman has topped $570 million in earnings worldwide, and praise for the film, which is purportedly everything feminists have been waiting decades for, and more, continues to roll in unabated.
The movie was directed by a woman and, of course, featured a female lead, notable in a male-dominated Hollywood landscape and society that has always gawked at the idea that female-led and directed films could perform as well as their counterparts. Wonder Woman undeniably marks a victory in that regard — it dispels with the myth that women can't make and lead great superhero movies, that female-led movies can't top the box office.
And yet it's worth noting that the film's commendable step in the right direction for gender representation doesn't sweepingly make it worthy of feminists' unchecked praise.
Last week, Al Jazeera quietly released an op-ed called "Watching 'Wonder Woman' in Gaza" that seemed to slip almost entirely through the Internet's cracks. It certainly didn't appear on any of my social media channels, while for weeks upon weeks articles by (often white) women praising the movie's glorious feminism filtered in without end.
The following is an excerpt from that op-ed:
"This particular Wonder Woman, Ms. Gal Gadot, is no ordinary Israeli soldier. She is a fanatical warrior in the cause of the Zionist theft of Palestine and the uninhibited slaughter of Palestinians. …

Now, 'What does all of this have to do with the movie, Wonder Woman?' you might ask. Suppose you are a father or a mother living in Gaza, and like any other parent from Florida to Oregon you wish for your daughters to have a positive role model – then what? You hear there is this amazing Hollywood blockbuster championing the cause of a young female superhero. Could an Israeli soldier who learned her martial arts skills by helping drop bombs on your brothers and sisters, maiming and murdering them, be perceived as an Amazonian princess who is here to save the world?

But Gaza is not just the largest open air prison in which Israelis have incarcerated some 1.8 million human beings. Gaza is also the moral measure of our humanity at large.

If you are utterly enjoying this particular Wonder Woman as a role model for your daughters in a theatre near you and could not care less about a young Palestinian girl mourning her family in Gaza whom the woman portraying your superhero helped kill, then all the power to you. You need not bother to know that in this film Gal Gadot does not just personify Wonder Woman, but alas Wonder Woman disappears into Gal Gadot."
Amidst a sea of feminist applause for the film, it's important to remember that feminism is fundamentally about the liberation and empowerment of people of all backgrounds, inclusive of far more people than white women.
As a passionate Zionist advocate and former Israeli military officer, Gadot, the film's lead, is ultimately complicit in the oppression and marginalization of Palestinians. It's a deeply flawed, western-centric "feminist" culture that celebrates a movie starring someone who advocates for this oppression solely because she is a woman.
"During a year in which a virulent misogynist became president, 'Wonder Woman' has broken box office records for films helmed by a female director," Matthew Rozsa wrote earlier this month at Salon. "Less than a year after Salon noted how movies starring women are treated with disproportionate harshness by male critics, 'Wonder Woman' has a 93 percent freshness rating on RottenTomatoes."
Rozsa is right to point out these undeniably stellar, landmark achievements by the movie, especially at a time of seemingly renewed hostility and sexism toward powerful women. The film also espouses an important progressive message, following violent struggle ultimately fueled by nationalism, but this message is starkly contradicted by whom the lead role is occupied by, and her values. That is, her support for driving countless from their homes and the oppression and marginalization of the Palestinians on their own land.
In casting Gadot, the film is implicitly affirming this oppression.
Feminists have a responsibility not just to women, but to all marginalized peoples worthy of representation and respect. And so, while in some ways, Wonder Woman may mark an important step in the right direction, in many others, it marks a disturbing step backwards.
This is an opinion piece. The views expressed in this article are those of just the author.