Campaign Trail Trolls Dupe Fox Reporter and Others Into Thinking Trump Supporters Wear Armbands
They have struck again!
It appears that the same heckler who interrupted a Marco Rubio rally on Sunday, pretending to be a jilted boyfriend, has now convinced a Fox News reporter that Donald Trump supporters in Florida are boasting armbands.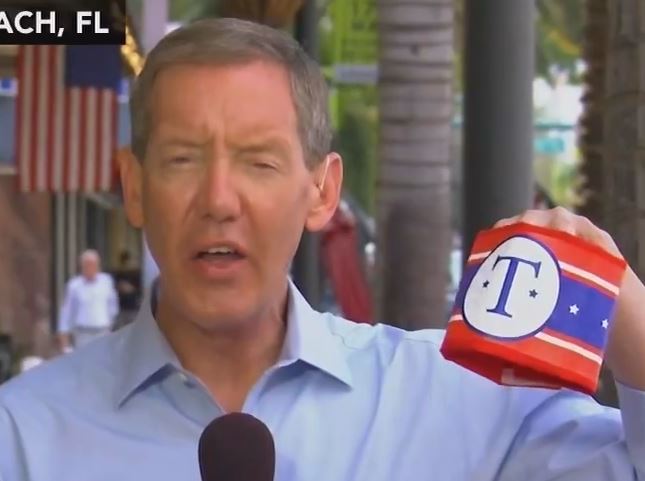 Fox's Carl Cameron (pictured above) produced a segment on the Trump armbanders, which Shepard Smith aired during his show Monday:
But take a look at the screengrab of the troll/comedian from the Rubio rally: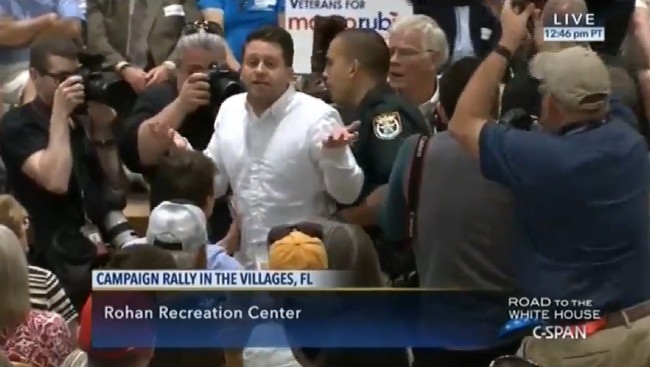 Here is the video from that event:
Compare with the photo below from Cameron's producer Nick Kalman posted Monday afternoon:
.@realDonaldTrump supporters sporting armbands in Florida https://t.co/MoJjuXcVOk

— Nick Kalman (@NickKalmanFN) March 14, 2016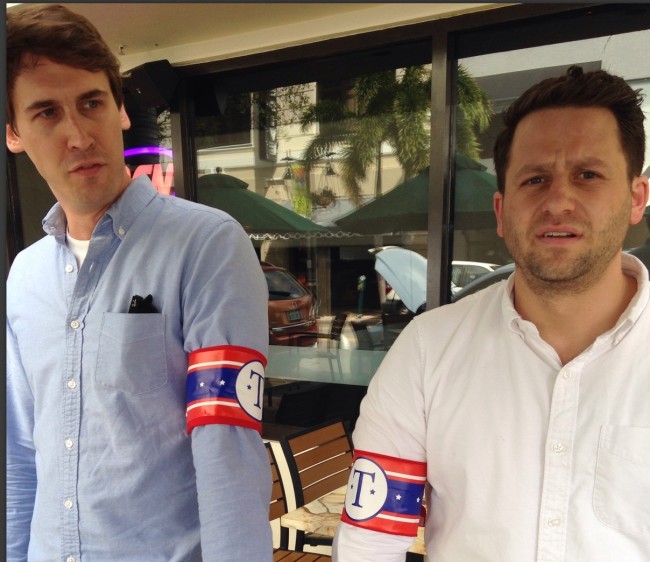 The armband boasters appear also to be the same guys who were caught on camera wearing "Settle for Hillary" t-shirts at a Clinton rally last month.
EPIC Troll at Hillary town hall. Still from CNN Clip #SettleForHillary #feelthebern pic.twitter.com/nzaaq6rcaH

— Nicole Ballivian (@bintfilm) February 9, 2016
People behind @HillaryClinton wearing "Settle For Hillary" shirts at her event in Hudson, NH… ouch. #nhpolitics pic.twitter.com/PwK0NwCrat

— Jeff Bechdel (@jeets) February 9, 2016
Genius troll? Next-level comic bit? Who can say?
UPDATE — 4:15 p.m. ET: Kalman, the Fox producer, updated his Twitter to say the pair appeared to be "professional trolls."
Looks like that armband duo were professional trolls

— Nick Kalman (@NickKalmanFN) March 14, 2016
As did Fox anchor Shepard Smith:
Seems these guys are professional trolls https://t.co/nwIkIn9RU4

— Shepard Smith (@ShepNewsTeam) March 14, 2016
UPDATE — 4:35 p.m. ET: Cameron clarified on Neil Cavuto's hour that the Trump campaign was not handing out the armbands — it was merely two men with a "terrible sense of humor."
Have a tip we should know? tips@mediaite.com