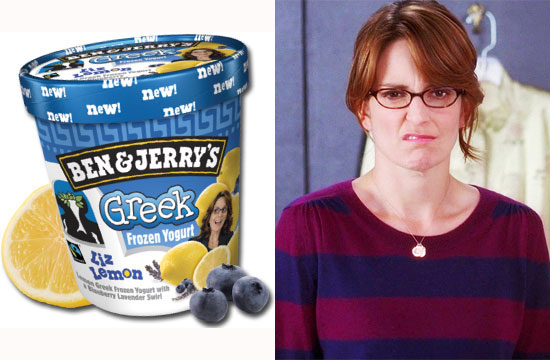 A few days ago, Ben and Jerry's teased an exciting new flavor honoring 30 Rock and its creator, Tina Fey, just in time for its the series finale. Considering Liz Lemon's love of strange, hyper-salty, Bloomberg-condemned foods (and hatred of bald salad ruiners), we got hyped… until they released the actual flavor yesterday. It's a Greek frozen yogurt (playing off Tina Fey's Greek heritage), flavored with lemon (playing off the name Liz Lemon — oh, come on). We'll give you a wild guess what it's called.
From a company that gave us such awesomeness as Stephen Colbert's Americone Dream, Alec Baldwin's Schweddy Balls, and Phish Food, you'd think they'd come up with something more creative, or at least plumb the depths of 30 Rock's food references (which we've done! It's not that hard!).  These would all be great flavors, yes?
Instead, we are stuck with an ice cream flavor that sounds like it's marketed towards middle-aged yoga moms with perfect bodies who like eating yogurt. Shut it down.
Have a tip we should know? tips@mediaite.com