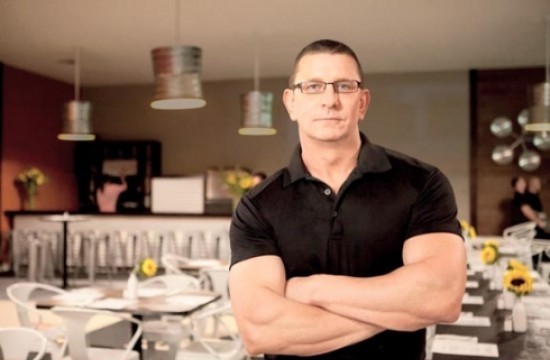 Today, the New York Times asked the question that plagues our nation daily: is Robert Irvine, and his hurricane of small business-saving known as Restaurant: Impossible, recession-proof?
The answer, apparently, is "kind of sorta maybe it depends." Some of the restaurants profiled ended up thriving, some died rather quickly, and most ended up jettisoning the changes Irvine made to their businesses. (Good thing Horton's Kids is a nonprofit, then!) Occasionally they got rid of the decor —  from painted mahogany panels to a confusing British pub theme — but most of the time, they couldn't keep serving the hoity-toity fancy items Irvine told them to put on their menu:
"We had to bring back our beef cannelloni, even though that dish is frozen," said John Meglio of Meglio's Italian Grill and Bar in Bridgeton, Mo. "Chef Irvine kept telling us that we needed to make more fresh food, and that makes perfect sense. But what he didn't know is that people here have been eating frozen pasta from this one supplier in St. Louis for the last 50 years."
But look past the obvious knocks on that one time Irvine lied on his resume, and you begin to see what his show says about the restaurant industry outside of the major culinary centers: the dying or stabilized restaurants cater to their older clientele, and Restaurant: Impossible's success stories accept their reinvention to attract younger, more food-obsessed diners. Just ask Doug Krick Sr. of Dodge City in Harrisburg, PA:
The remodel put an upmarket gloss on the restaurant's Western theme, and a few of Mr. Irvine's dishes were hits from the start, including a bison taco appetizer and a hanger steak with smoked tomato and blue cheese orzo. Why did Dodge City succeed where others have faltered?

"I think it's because we knew that we had to say goodbye to our old customers if we were going to survive," he said.
[NYT]
Have a tip we should know? tips@mediaite.com