Alex Guarnaschelli On Why 'Celebrity Chefs' Are Like 'Peanut Butter And Sardines'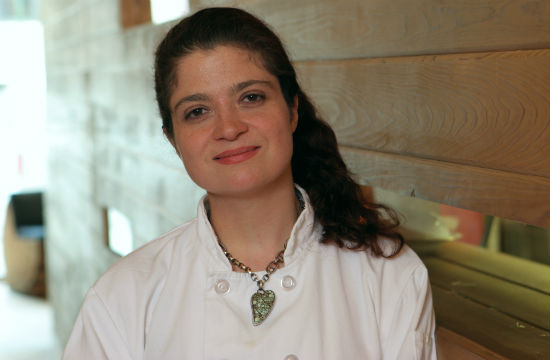 In between creating tasty treats and sifting through fan submissions for Häagen-Dazs' 50 Summer Moments campaign, Chopped judge and Next Iron Chef contender Alex Guarnaschelli found a moment to chat with us. The executive chef at Butter and The Darby in New York is teaming up with Häagen-Dazs to curate the 50 best fan tweets and Instagrams detailing their favorite summer moments (submit using #HDmoment!) into a book commemorating the ice cream folks' 50th anniversary. We're just celebrating with Caramel Cone.
So, we were obsessed with Butter way before it became a Gossip Girl hotspot, but Alex finds herself far removed from the celebrity clientele to which her trendy restaurants frequently cater.
Alex also studied under Guy Savoy and worked at Boulud, but she stayed tight-lipped about any kitchen gossip involving her mentors. She did, however, offer a glowing review of her latest mentee, Top Chef Ashley Merriman. Check out our interview below to find out who else Alex reveres in the kitchen.
The Braiser: Who is your culinary icon?
Alex Guarnaschelli: Number one is Bobby Flay. Number two…probably Guy Savoy, the person I worked for in Paris for many years. I like Dione Lucas a lot, may she rest in peace. Those are probably three really big ones for me, for different reasons. I like Bobby Flay's attitude and his approach towards food. I think he's just passionate and very honest. I find him very honest about food, and cooking, and ingredients and I admire that because I think that it's easy to get away from that, for various reasons. For Guy Savoy, I mean, I worked for him for over six years and he really taught me a lot of the approach that I still apply when it comes to food, so that's very important in terms of building dishes, and understanding flavor, which I'm still working on. I don't think that ever stops. And then Dione Lucas because I grew up with my mother cooking from her books, and I love her recipes, and because I think that she has a way of giving you a list of ingredients, and you just don't believe they're going to work, and then you make it and it's ethereal. So, for those varied reasons, those are probably three of my biggest [icons].
What about if you could have any chef in the world cook for you?
Only one?
Only one.
Jesus, if I wanna eat someone's cooking, I stalk them until they do…My problem is no one is alive, that I want to cook for me. I mean, I definitely would say that if time weren't an object, I would want Craig Claiborne to cook for me. I'm really big on him.
Who would you really love to cook for? Who would you love to serve your best meal to?
I have to be honest and say that I never really feel like there's one person that I really want to cook for. I just want my food to always get better and always be evolving and for there to always be movement in what I make. I would say I strive for that more than anything else. I've had the honor of cooking for many amazing people, so I can't pick one.
What aspect of being a chef do you find to be the most gratifying?
I wouldn't call being a chef gratifying in a lot of ways. It's an act of love. It's an act that requires tremendous dedication and commitment, and patience — all things that I'm still working on getting. But, most rewarding? Buying an ingredient that's really great and leaving it alone enough by the time it gets to the plate, and not muddling it, or mucking it up, just kind of saying, "Yeah. That came into being as arugula, and it totally belongs where I put it, and it's the way it should be represented." And that's not an easy thing to do.
How do you feel about being considered a celebrity chef?
I think that celebrity and chef should be a permanent oxymoron. That's like putting sardines on a peanut butter sandwich, to me. It just doesn't make any sense. So, I don't see myself that way. I'm sorry. Honesty's my only policy.
So, you were working with one of our favorites, Top Chef Ashley Merriman for a while. We know that you sort of took her under your wing. What were you two working on?
We worked at Butter together…I love her. She's the best. I have nothing but great things to say about her. She's 200% fantastic, and talented, and passionate, and enthusiastic. She is the way a chef should be, in my book.
We know that you also had a stint at Boulud before opening Butter. Do you have any juicy stories about working for Daniel, and about what that was like for you?
I mean, no. The only juicy stories I would have would be shit-talking, and that's not my style. I'm sorry. You gotta catch me when I'm drunk or grumpy. Neither or which happen very often.
Have a tip we should know? [email protected]