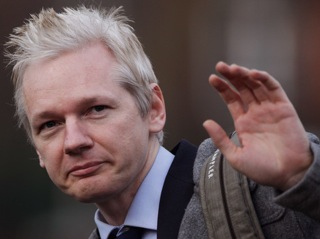 Wikileaks head Julian Assange has requested political asylum in Ecuador amidst Sweden's extradition claim on sex charges, it was reported today. According to NBC News, the Ecuadorian government, which previously had offered Assange asylum, confirmed that his request was under review.

The Guardian had more details of the incident, which appears to have been as casual as Assange walking into the London embassy of the South American nation and asking for help:
He walked into the embassy in London's Knightsbridge district and asked for asylum under the United Nations Human Rights Declaration.

A man speaking from the embassy said the whistleblower had arrived there today.

Ecuador's foreign minister Ricardo Patino also confirmed the Australian had taken refuge at its embassy and that the country's government was weighing up the request.

A message was posted on the Wikileaks Twitter account, saying: "ALERT: Julian Assange has requested political asylum and is under the protection of the Ecuadorian embassy in London."

A second read: "We will have more details on the Ecuadorian situation soon."
The move comes as Sweden's extradition claim gets a hearing with the UK, where it is expected he would end up being shipped to Sweden. Ecuador had previously offered asylum to Assange and Ecuador's president, Rafael Correa, was recently a guest on Assange's RT America talk show, The World Tomorrow. No word on how this will affect Assange's ongoing quest to be a member of the Australian Senate, or whether, if accepted into Ecuador, the charges in Sweden would continue to haunt him or whether he would have sufficient access to the internet to run Wikileaks.
Have a tip we should know? tips@mediaite.com