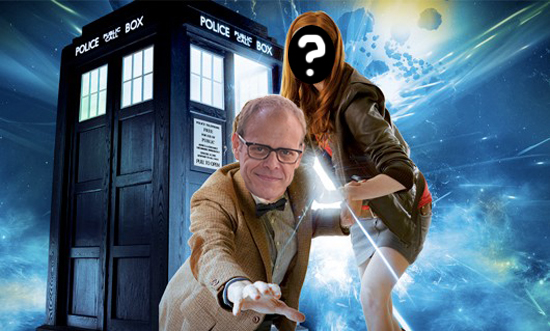 In a move that was probably designed to make me the happiest nerd on the planet, Alton Brown tweeted one of his lifelong desires: to have an American actor playing the titular character on the British sci-fi TV show Doctor Who.
Asked who would play an American from Gallifrey? "I was thinking… me."
Dorks everywhere on Twitter immediately began speculating which Food Network personalities would play what characters, and the author of this piece did not spend significant amounts of time coming up with some casting choices, because she is a serious journalist who leaves her hatred of the Eight Doctor and the 1996 television movie outside the workplace.
(If I were a Doctor Who fan, I'd cast Carla Hall as a Companion and David Chang would be one of those Captain Jack-esque recurring characters.  Oh, and Marcel Vigneron playing the most annoying Dalek in time and space.)
(That is, if I were a Doctor Who fan. Which I'm not. Um, basketball.)
But Brown is totally cool with being a Whovian on the internet, correcting people who called companions "sidekicks," correctly remembering that the Doctor only gets 14 regeneration cycles, and saying that the TARDIS is, and forever will be, better than a tank.
And of course, every Doctor needs a Master. Current candidates for Alton's evil nemesis, according to the Internet (and his response to my Twitter question), include Guy Fieri, Giada De Laurentiis, and Anthony Bourdain. Given the canon of Doctor Who, though, they could all regenerate into each other so we could see at least three different takes on the Master.
Have a tip we should know? tips@mediaite.com