Alton Brown Finally Explains His Twitter Post-Its: 'I Don't Want To Put Up With Rules'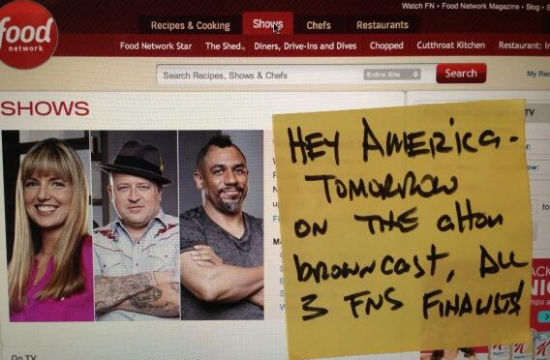 Twitter outlaw Alton Brown's Post-It doodle tweets landed him on our list of best and worst celebrity chef Twitter accounts last year, with props for the creative and clever concept, but boos for the annoying execution of having to click through the photo link to see every one of his tweets. Thankfully, Twitter has revamped its interface since then, so we can see photos drop down below a tweet right in our feeds if we so choose, news stream uninterrupted. Thanks, Twitter!
But, really, what's the deal with the Post-Its? Uh, Alton Brown hates rules, that's what. He invited the Food Network Star Season 9 finalists onto his podcast, The Alton Browncast, this week, and Damaris inquired how he thought up such a savvy branding technique.
"I didn't want to put up with the rules," he remarked. "I don't want to write 140 characters; I want to do 150 characters and draw a drawing, so I started taking pictures of Post-It notes and it just stuck."
Plus, his agent made him. Added Alton:
"I'll tell you this: in any given system, any system, if I have to be in the system, I'm going to try to find a way to have fun in the system. And I didn't find Twitter fun. And I made this bet with my agent. He said, you've either got to be on Facebook or you've got to be on Twitter. And I am on Facebook, but I don't actually run it. I have an employee that runs it. But I do Twitter, and so I said, well, I'll choose Twitter, but I'm like, but I've gotta have fun.

And I did it for like a month, and was like, god, this is not really fun for me at all. And so I started doing the paper thing, and then all of a sudden, I was like, oh this is cool. I can do this, this is fun! I can draw things, and I can stick things on things! But I've gotta tell you right now, my computer screen is completely trashed. Because once all that glue is on there, you can't get it off. So I keep hoping Apple will send me a computer. They don't."
Let that be a lesson, kids. Innovation has its consequences. Sticky, sticky consequences.
In other news, Alton pulled a smart move by having the three finalists of a widely panned Food Network Star season on his podcast in an unfiltered medium. Never have we ever found Nancy Mohawk and Awkward Sexy so charming and funny! They're actually really likable people and, for whatever reason, Food Network production refuses to let that shine through on the show. We'd remark how impressed we are by Alton cleverly showcasing them on the podcast a few days before a winner is announced in a sneaky effort to foster some more love, but are we really surprised by his quiet genius?
You can listen to Alton's podcast in its entirety here.
[Nerdist]
RELATED:
Alton Brown's Cutthroat Kitchen Is Game Of Thrones, But With Less Blood And More Salt
WATCH: All The Food Network Star Pilots, Directed By This Guy
Justin Warner & Alton Brown Reunite, Talk Banana Split Pea Soup (Pun Intended)
Have a tip we should know? tips@mediaite.com