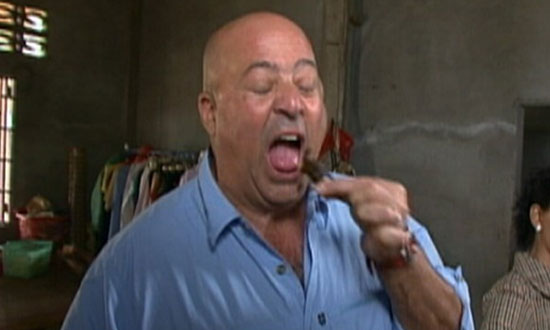 This past weekend, the Atlantic City Food and Wine Festival was held, and apparently, Atlantic City is where the chefs go to let their hair down. Luckily for us, what happens in AC doesn't stay in AC — and The Daily Meal was on hand to capture some of the chef's most entertaining sound bites.
By virtue of being the star of Bizarre Foods, Andrew Zimmern is constantly asked about outrageous things he would or would not eat (human flesh seems to be a popular talking point). But the most interesting confession he shared at the festival regarded something he was terrified to eat: a foreskin.
In Madagascar, a guy almost handed me the cut foreskin of his grandchild to eat. I was dripping cold sweat down the back of my neck, like 'Oh my god, what do I do?' Had he passed it to me, I probably would have eaten it.
Awkward. Speaking of awkward moments, Anne Burrell had one of her own to share. Apparently, some people are so excited to see her, that they can't stop themselves from following her… everywhere.
The only thing that really sucks is when people follow me into the ladies' room. It's surprising how often that happens. I'm like, 'Really? I'm coming back out again. What do you think I'm doing in here? And what I'm doing in here you don't need to know about. And if you want to know, I don't want to know you.'
Maybe they were hoping for some girl-talk between stalls?
Have a tip we should know? tips@mediaite.com