Andrew Zimmern's Lowest Point: 'I Had A Plan. I Was Going To Drink Myself To Death'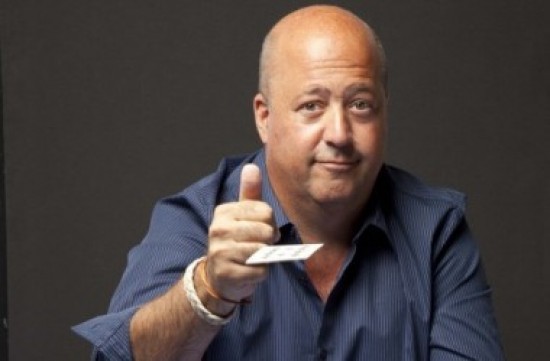 For people who came here looking for a funny story about the worst bug Andrew Zimmern ever ate, this is not it. In fact, it's downright dark. Because long before the fame and the travel, and even before his rise to culinary stardom in Minneapolis, Zimmern was struggling to get sober.
In the past, he's been public about his former life as a homeless drug addict, but in an article for the magazine Guideposts, Zimmern recounts — with excruciating detail — his own downward spiral into addiction and alienation, as told to someone he met at a veterans' shelter:
I'd met Jimmy in the common room. We struck up a conversation and I asked if I could see where he lived.

"I've made a mess of my life," he said. He told me how for years he'd struggled with physical and emotional problems, lost his marriage and his business. "I had nothing to live for. It just seemed so hopeless before I got help here at [Services for the Underserved.]"

"I've been there," I said, my voice just a whisper. "And not that long ago."

I thought back to that day in New York City, early January of 1992. I'd checked into a cheap hotel with a case of vodka in large plastic bottles. "I had a plan. I was going to drink myself to death," I said. 
…wow.
The rest of the article — about his crash, his failed attempts at sobriety, and his eventual recovery at the Hazelden Rehabilitation Clinic in Minneapolis — is posted in its entirety on the Huffington Post. It's painful to read — but only because you get the sense that it's hard for anyone, even badasses like Zimmern, to revisit parts of their lives they're not proud of. It's even harder to retell that story to an audience of millions.
You did good, Zimmern.
Have a tip we should know? tips@mediaite.com