The Who, What, When, Where, and Why of Anthony Bourdain's SuperPier Food Hall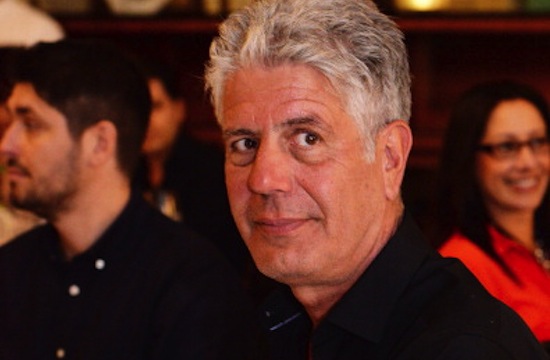 What? Back in September, news broke that Anthony Bourdain and WiNK Retail Group CEO Stephen Werther were opening an international food hall in an undisclosed Manhattan location.
He has signed a deal to open his first large-scale food market in Manhattan, which will reflect his passion for international street food, Page Six can exclusively reveal.

We're told Bourdain has teamed up with New York entrepreneur Stephen Werther on the yet-to-be-named project, which could possibly be called Anthony Bourdain World Market. And it will spotlight "cuisines from all around the world," as well as "give young chefs a showcase to strut their stuff" and "introduce Americans to Singapore-style street food."
Design-wise, Werther told the World Street Food Congress in Singapore:
Werther presented rough renderings of what the market would look like, highlighting inspirations such as the set decor of Blade Runner and the vibrant back alleys of Tokyo. "It's a bit more chaotic than how the hawkers markets are organized here. Hopefully, it will be as crowded and popular. But it is supposed to be a mash-up of foods, styles, smells, tastes and visuals."
Who? Besides Bourdain, 40-50 international street food vendors hawking in the open air. Earlier this year, Bourdain hinted at a few incoming chefs to Departures:
Bourdain's center will host 40 to 50 single-concept stalls selling one to two specialties. The market, which will mix big-name chefs with rising stars from around the world, will be divided into three components: an Asian food hall inspired by Singapore and Malaysia, where each of the chefs will present a family dish passed down from generations; a selection of domestic and international chefs offering gourmet street food, including options like tostadas from La Guerrerense, a cart in Ensenada, Mexico, and barbecue from Daniel Delaney of Brooklyn's BrisketTown.
When? Consensus pins Bourdain Market to early 2016.
Where? Never mind rumors placing Bourdain Market at 4 World Trade Center (or even 3 World Trade Center,) as Commercial Observer finally nailed down the 100,000sqft venue hidden in plain sight as down the block from Chelsea Market:
The chef is in negotiations for 100,000 square feet at the long-abandoned former shipping and passenger terminal at Pier 57, and the food hall will comprise nearly the entire retail portion at the 560,000-square-foot Pier 57, renamed "SuperPier," at West 15th Street and the Hudson River, sources with knowledge of the deal said. Apparently the TV host is negotiating directly with the developers.
Why? Because New York doesn't have slow casual food. Werther, who's apparently unfamiliar with the concept of brunch, told Singapore's Today Online:
"New York needs this. New York's idea of street food, with a few rare exceptions, are sort of new versions of what we call fast casual. And that's not what this is. It might be casual, but it's not fast."
Have a tip we should know? tips@mediaite.com