PR Firm Suggests Comic-Con Nerds Visit Anthony Bourdain's Favorite Places In Tijuana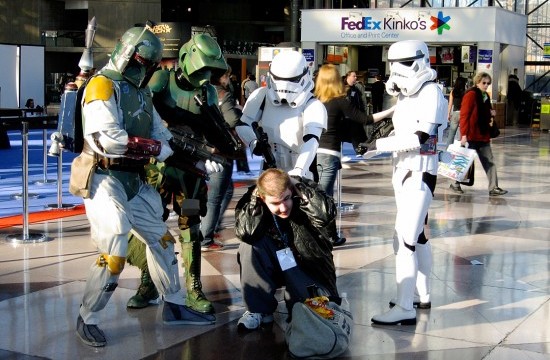 This weekend, Anthony Bourdain, along with the team behind Get Jiro!, will be promoting his new comic book at Nerd-vana, aka the San Diego Comic-Con. But while he's shoulder to shoulder with his beloved nerd brethren, he is (according to his PR handlers, and also according to our creative license) thinking desperately about crossing the border to visit his beloved Tijuana, which, by the way, is home to these 8 awesome restaurants and bars that are personally Bourdain-approved.
The San Diego Union-Tribune wondered aloud why on earth they were sent the prime ingredients for a listicle, since Bourdain really, really hates listicles. (We know this to be true. We personally witnessed him scream his hatred of listicles into a microphone at Le Bernardin.) But we have an idea why this list went out:
It's for the nerds.
Think about it! There are tons of Bourdain nerds at Comic-Con, wearing their Voltron suits and My Little Pony costumes and screaming things like "DANGER ZONE!" to him as he passes. And since San Diego is hardly a culinary destination (sorry, San Diego, but you know it's true), it makes perfect sense to send a bunch of nerds dressed as Stormtroopers and Adventure Time characters into Tijuana for some deep-fried chicken necks.
So if you're lucky enough to be at Comic-Con, go visit Tijuana for some awesome tortas. Bonus points if you can get your absurdly huge, impractical costume prop weapons through customs and photograph yourself wearing your Comic-Con cosplay in front of Kentucky Fried Bouches.
Have a tip we should know? tips@mediaite.com