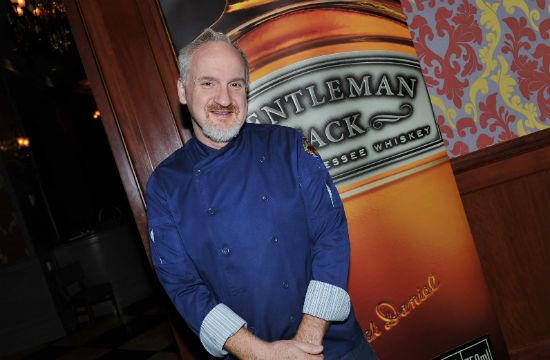 Art Smith, our favorite celebrity name dropper and loving chicken fryer, is hosting a "Queer in the Kitchen" party on Stageit.com this Friday, and it promises to be the online streaming bash of the weekend news cycle!
According to the press release (and we can't possibly imagine who wrote this), the party will feature Art "[dishing] in the kitchen with stories of cooking for celebrity clients and you will learn the secrets to his famous fried chicken and his hummingbird cake served to every star in the solar system."
Queer in the Kitchen will take place in Art's Chicago home, where he'll be frying chicken and sassing all over the place, while his husband Jesus Salguiero quietly paints in the background. The two-time Top Chef: Masters contender filled Huffington Post in on his other guests:
"We've thrown some of the gayest, most fun celebrity parties in our home full of critters and our sassy house manager, Iris, along with a former gay stripper florist. And let's not forget Oprah's party guru, Debbie Lilly, drag queens, boys, politicians and other folks. A mosh pit of gay fried chicken and fun people celebrating the common thread: a love of comfort."
Chef Smith admitted that he came out the "Florida First Family" in his 20s, before he came out to his own family, while he was working for Governor Bob Graham, even extending his personal chefly duties to assisting the Governor's four daughters in choosing prom dresses and boyfriends. In other words, Art was the world's best fairy godfather.
He also believes that being a gay chef has influenced his cooking for the better in this sweet, possibly somewhat misguided comment on queer acceptance:
"Food has no gender it just has to taste good. PRETTY HELPS! Gay, straight, whatever floats your boat — cooking is pure passion and skill. I consider being a gay chef a plus — it enables me to be outrageous and free."
We'll leave the party-throwing/love chicken to Art "Pretty Helps" Smith, and the lobbying to someone else. Deal?
Have a tip we should know? tips@mediaite.com