New Evidence Of Warnings Before Benghazi Attack: Consulate Bombed Twice Prior To 9/11 Assault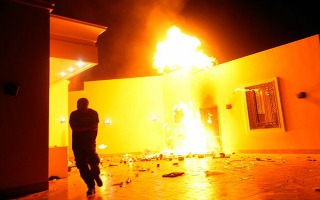 As questions mount regarding the appropriateness of the Obama administration's response to the attack on America's Libyan consulate in which four Americans, including Ambassador Chris Stevens, were killed, new evidence has emerged which shows American officials had warnings that the consulate was a primary target for Islamist militants in Libya.

RELATED: Media Silent After Intelligence Sources Claim Obama Admin. Misrepresented Facts About Libya Attack
According to a report in the Daily Beast from national security reporter Eli Lake, the American consulate in Benghazi was bombed twice prior to the deadly attacks on the consulate on September, 11. The bombing incidents, in which assailants attacked the embassy with explosive devices, occurred on April 2, 2012 and again on June 6, 2012.
Furthermore, according to the testimony of whistleblowers that approached the House Committee on Oversight and Government Reform, Islamist militants posted threats to the consulate on Facebook prior to the attacks. Militants claimed responsibility for a May 22 attack on a Red Cross facility and called that attack a "message for the Americans disturbing the skies over Derna" in a post on the online social network.
The details of the threats to the consulate were put in a letter to Secretary of State Hillary Clinton from House Oversight Committee Chairman Rep. Darrell Issa (R-CA). That letter was obtained by the Daily Beast and Lake.
Rep. Jason Chaffetz (R-UT), a cosignatory of the letter to Clinton, told the Daily Beat that the whistleblowers in question were "people who have firsthand knowledge of the incidents themselves."
Last week, Lake reported that multiple intelligence sources had alleged that Obama administration officials knew that the events of September 11 resulted from a coordinated, multi-stage terror attack and not a spontaneous uprising. United Nations Ambassador Susan Rice asserted on multiple Sunday news programs following the attack that it was the administration's belief that the attacks were not premeditated.
Lake's report details a number of security threats which Western diplomatic personnel have faced in Libya, including a May 1 carjacking in which a member of the American embassy's security forces was "beaten and detained" by militant youth. He was eventually freed after Libyan forces engaged in a firefight with assailants to recover the captive. In another incident in June, an attacker fired a rocket-propelled grenade at a convoy carrying a member of the British diplomatic staff.
Read the full report via The Daily Beast
> >Follow Noah Rothman (@Noah_C_Rothman) on Twitter
Have a tip we should know? tips@mediaite.com