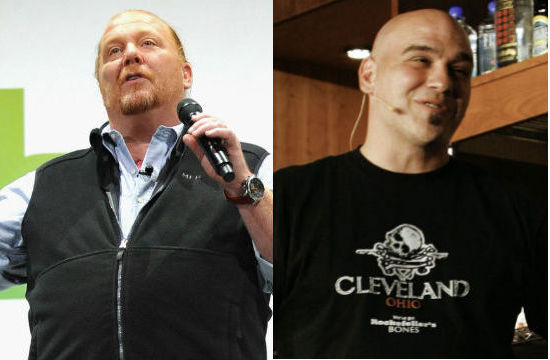 With Mario Batali in his signature orange Crocs and Michael Symon as giggly as ever, there was one theme that the two somehow kept coming back to during their Times Talks event at this year's New York City Wine & Food Festival : authenticity.
Batali and Symon started off by letting everyone know that the food you see them make on The Chew is the same kind of food they're going to be feeding their families for dinner. "Cooking shows have gotten too 'perfect', too 'pretty', too 'Martha" said Symon. The two of them are not on TV to be making something that's perfect restaurant quality, and if they make mistakes while on camera, that's just a part of the process. It's authentic. Symon stressed their desire to teach people that simple, healthy food can be easy; people shouldn't be getting frustrated by something they've seen on TV thats "over-fluffed and unattainable".
During the hour long talk with moderator Julia Moskin, we also learned that The Chew had already been green-lighted by ABC before Batali and Symon we're signed onto the show. But once they came on, they have found that the network's commitment to them has allowed the entire cast to really grow their audience. Making a comparison to the restaurant industry, Batali addressed the show's relationship with their audience like this: "They [the audience] count on something. They come back as regulars, to find something they might like".
It's when Batali and Symon started making parallels to today's restaurant industry and chef culture that their real feelings were herd. Some truth bombs being dropped here. Symon referred to all of those mushroom-foraging, presentation-obsessed, hip young chefs (directly naming Rene Redzepi) as a part of a "precious movement". And he didn't mean that in an entirely positive way. Batali underlined that sentiment saying that chef culture today seems to cause people to "bow down to the altar of the chef" rather than enjoying their food.
Symon left us with one final piece of wisdom concerning the waxing and waning of the restaurant biz: "I think trendiness – it is what it is – but authenticity is forever. A lot of these restaurants will come and go, it's just a fad." Bam.
Check out some more quotes from the talk below:
.@Mariobatali : "Paula got stuck in a weird trap. There were things she wasn't necessarily in charge of. Her staff let her down." #NYCWFF

— The Braiser (@TheBraiser) October 19, 2013
According to @Mariobatali at #timestalks "The rock stars are soon to become the farmers who produce all of our food." #NYCWFF

— The Braiser (@TheBraiser) October 19, 2013
"There's a lot to talk about, but in the end it's just food, if we understand that, we're on the same playing field." @Mariobatali #NYCWFF

— The Braiser (@TheBraiser) October 19, 2013
#NYCWFF #timestalks @chefsymon Re: #thechew "You will more than likely find the food we make on the show on our dinner tables, it's homey."

— The Braiser (@TheBraiser) October 19, 2013
Have a tip we should know? tips@mediaite.com