Betting on Top Chef Duels, Episode 6: Dale Talde Versus Tiffani Faison (Updated with Winner)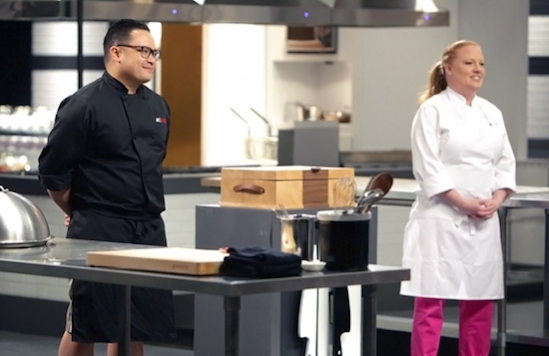 Because there's never enough Top Chef, so says Bravo, we are now privy to the newest of the franchise spin-offs: Top Chef Duels. Let's get the cockfight going and see who wins these battle of the brawn — er, culinary challenges — of the season.
Episode 6: Dale Talde Versus Tiffani Faison
From Bravo:
When two chefs known for their tempers face off, it is bound to get hot in the kitchen. First, Dale challenges Tiffani to relive a past failure of hers in preparing dim sum. Then Tiffani counters with a contest based on an American canapé and classic cocktail. For the Duel, featuring guest judges Rob Zombie, Scott Ian, and Gary Holt, the chefs must prepare a vegan meal and service will get hard core as one Chef will be rocked. These Top Chef All-Stars are out to prove that the third time's the charm.
Accolades Between the Chefs: Faison is one of the first cheftestants to appear on Top Chef, ever. She was runner-up on season one, and has worked with all the best chefs like Daniel Boulud, Todd English and Alain Ducasse. She opened up her own barbecue restaurant, Sweet Cheeks, to rave reviews. Similarly, Talde has opened two restaurants since his Top Chef season four run, to wild success. He was also named "People's Best New Chef" by Food & Wine last year, as well awarded the "Rising Star" award from StarChefs.
Number of Predicted Meltdowns Between the Two Competitors: Bravo seems to predict at least one meltdown in its description — the real question is which chef will be having it.
Will This Make for Good TV: Two feisty competitors? Oh yeah.
Who Will Win: Faison admits it off the bat — dumplings are hard. And of course Talde throws it at her right off the bat. And then to give a vegan final challenge to a barbecue master is … a challenge, alright. We don't expect anything less from Faison than a good fight, but ultimately, the cards are stacked in Talde's favor.
Share with us who you think will win this episode — or who would win in an actual food fight.
*Update: We were right! Although Faison put up a tough fight, Talde just barely edged out above her to win.
[Bravo]
RELATED: Betting on Top Chef Duels, Episode 5: David Burke Versus Takashi Yagihashi (Updated with Winner)
Betting On Top Chef Duels, Episode 4: CJ Jacobson Versus Stefan Richter (Updated with Winner)
Betting on Top Chef Duels, Episode 3: Mike Isabella Versus Antonia Lofaso (Updated with Winner)
Image via Bravo
Have a tip we should know? tips@mediaite.com