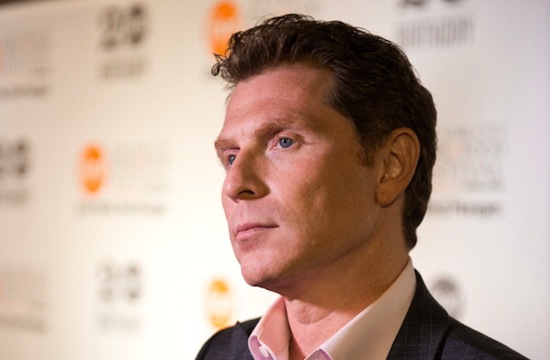 While it's rumored Gato chef Bobby Flay cheated on his wife Stephanie March with his assistant Elyse Tirrell, March claims that Flay still enjoyed the Law & Order actress' mouth so much she deserves a reprieve from a prenup that leaves her with only $5,000 a month in alimony.
[March] claims Bobby told her she has "an amazing palate" and relied on her to taste test his recipes. She says she sampled a number of items at their home and gave thumbs up and down, which led to the finished product. She specifically cites Bobby's NYC restaurant, Bar Americain.

We're told in her argument to the judge she zeroes in on Bobby's famed NYC restaurant, Bolo, (which, ironically, didn't last). Stephanie says during a vacation to Spain she pushed him into including tapas on the menu — something she says he was against. But Stephanie says she prevailed, and the restaurant became an enormous success, earning 3 stars from the New York Times.

Stephanie says she was also heavily involved in the design and ambience of all of Bobby's restaurants, right down to music and lighting.
It's true Flay channeled the flavors of the Mediterranean at the shuttered Bolo. In a 2003 review for The New York Times, restaurant critic William Grimes wrote that the "new tapas menu shows Mr. Flay at his best" and "as a final homage to Spain, Mr. Flay delivers what may be the finest cheesecake known to humankind."
There's no mention of March in the story, but Grimes concludes "Bolo has rediscovered its youth, and, improbably, become fresher and more vibrant than the day it opened," and if that isn't what a younger woman does for a man, what is?
Have a tip we should know? tips@mediaite.com