One Chef At One Of Bon Appetit's 50 Best New Restaurants Is Going To Become Famous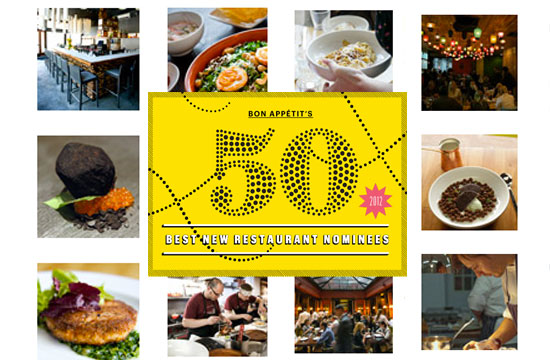 Every year, Bon Appetit Magazine releases a list of 50 of America's best new restaurants, culled from the reports of His Foodist Excellency Andrew Knowlton. Then they release the list of the 50 finalists to the world, a sign that these restaurants, and the chefs behind their counters, are worthy of adulation.
But while the crowds around the blogosphere circle around the list and celebrate the best restaurants, another process takes place behind the doors of Bon Appetit's editorial staff.  The food caliph mulls over his lists with deliberation, stroking his beards as he ponders who among the new chefs has created the top ten best restaurants in the past year.
For whosoever wins this prize is officially the chef with The Best New Restaurant In America, which, as the wise men say, is a big fucking deal. (For instance, please observe Successful Person Sean Brock, winner of the 2011 award and now a Big Deal.)
For while Michael Voltaggio may have won Top Chef, and Daniel Humm may have three Michelin stars in his back pocket from Eleven Madison Park, nothing is of greater import in the hospitality biz than opening a restaurant on your own and keeping it from falling over in its first year.
So who will be the chef of the Best New Restaurant in America?  Who will win fame, fortune, and three offers to shoot television pilots, two of which will fall through and one of which will be held up by logistical details for an indefinite period of time? Check out their list, and start your betting pools now! (We're sure someone out there has a betting pool on this.)
Have a tip we should know? [email protected]