UPDATE: Treme Creator David Simon & Andy Cohen Trade Barbs Over BP's Top Chef Money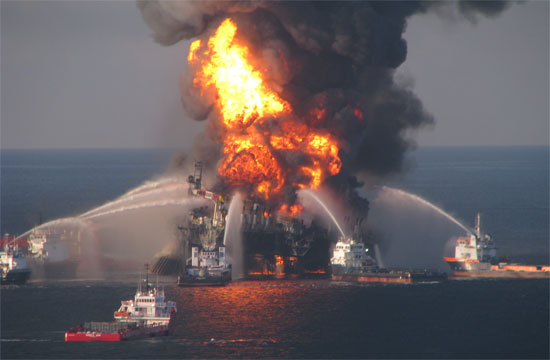 A standard practice among cities hoping to lure the Magical Elves production company to promote their local food scene on a national scale, the Louisiana Office of Tourism and the New Orleans Tourism Marketing Corporation paid $375,000 to bring Top Chef to New Orleans for Season 11. But while fans of the show giddily await a season where cheftestants are tortured with crawfish, those crawfish are probably looking forward to being eaten and ending their lives of misery, because their habitats were destroyed by the 2010 Deepwater Horizon spill, caused by oil conglomerate BP, whose recovery fund is underwriting Top Chef's production. Wait, what?
In an article about the state's sponsorship of Top Chef, the Times-Picayune revealed that the $200,000 paid by the Louisiana Office of Tourism came from a recovery fund established by BP to compensate the victims of the devastating oil spill. In exchange for the oil money, Top Chef agreed to shoot at least two challenges outside of New Orleans to reassure people that the state's oysters aren't filled with chemical dispersants "showcase other parts of the state," said state spokesman Jacques Berry. 
Compared to the price tags on other seasons — state tourism officials in Texas reportedly paid over $400,000 for Top Chef to shoot Season Nine in their cities — $375,000 is on the higher end of things, especially for a city already boasting a stellar culinary reputation in the US. But considering how much BP screwed over the entire Gulf Coast, we say: Do it. Rob 'em blind. Do it for the crawfish, whose relatives were smothered to death in crude oil. Avenge them.
UPDATE #1 (5:25 PM EST): Commenter Townsend Myers clarifies where the BP money actually comes from on Eater:
"This money was paid to the state and the city specifically to be used for promotion of tourism and tourism related projects. It is from a fund that compensated for loss of tourist revenue due to the spill. It was never meant to be used for "on the ground" projects or environmental cleanup… This is exactly what this money was designed to be spent on – activities that promote New Orleans and Louisiana tourism…"
Oh boy! You mean activities like these ads?
Eh, we'll give the State of Louisiana this: at least they used the $200,000 to sponsor Top Chef, a legitimate tourist magnet, instead of, say, putting it in a freezer.
UPDATE #2 (7:00 PM EST, 5/15/13): After Anthony Bourdain nudged this story in the direction of Andy Cohen as part of a brief Twitter freak-out, Andy sassed back, "Call me abt Treme's tax credits from NOLA."
Andy is, of course, referring to the David Simon HBO series on which Bourdain was a writer. Presumably, Tony did a little digging into just that, and produced this scathing comment from Treme creator and New Orleans crusader David Simon, himself:
"In our four years filming there, beyond all the money spent on employing the arts community in the depiction of New Orleans — three and a half million in music copyright payments alone — the production and the producers left behind a half million dollars in donated charity funds to Roots of Music, Common Ground, the New Orleans Musicians Clinic, the Tipitina Foundation and other local charities.

We received the legislated tax incentives that all film productions receive when they do production in Louisiana. We did not ask for or lobby for a penny beyond what the state was offering to all film productions."
Have a tip we should know? tips@mediaite.com