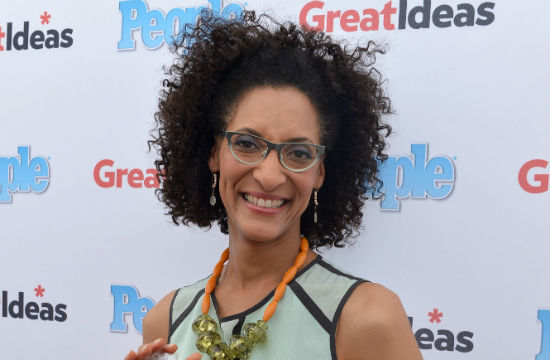 If last summer kicked off the year of Chefs Are The New Rock Stars, this summer marks the year of Food Is The New Cinema. Between the number of restaurants offering ticketed tasting menus and the James Beard Awards adopting a "Lights! Camera! Taste! Spotlight on Food & Film" theme for the 2013 ceremonies, chefs have gone from gnarly rock stars to heady artistes.
Brooklyn's Nitehawk Cinema caught on to the trend earlier this year, launching Film Feast: "a special series that features guest chefs who collaborate with Nitehawk's chefs to create a gourmet tasting menu inspired by an influential film of their choosing. The resulting multiple course meal is served to audiences throughout the movie."
Tonight's screening of Memento will be accompanied by a five-course menu designed by none other than Carla Hall.
"It was between Memento and The Usual Suspects, so I ended up choosing Memento. It's one of my favorite movies because it's so clever," she told us. "But it's distinct to look at the movie with the intent of serving food. Because there's so many different ways that you could go, and such different ways to think of it…the movie is really big, and so I wanted to be clever with the menu."
Memento is, of course, Christopher Nolan's non-linear neo-noir film, featuring one story that plays out chronologically in color, juxtaposed with a second narrative running backwards and in black and white.
"So you'll start [the movie] at the beginning, and every thirty minutes, you'll get a course," Carla explained. "So that's how I looked at the movie. I looked at what was happening thirty minutes in, and [we meet] Sammy Jenkins, and so the first course is a reverse Sammy Jenkins."
I.e., a BLT with the bacon on the outside. (It's like everything a KFC Double-Down should have been.) The second "scene" on her backwards menu hearkens to a story starting from the end with a "Fruits and Cream" dish evocative of dessert, but really comprised of technical-fruit tomato in a spicy soup with basil cream. Crafty!
Said Carla of the recent trend of conflating food and cinema: "I think that we go out as entertainment, especially with these really long tasting menus. I think when people go out, they expect what they see on Top Chef, or even other food shows. It's become entertainment. What chefs have done is move towards that so that we [as the diners] can enjoy it in that way."
You can check out the full five-course Memento menu below. Tickets for the 7:00 PM screening are available here for $95.
"Backwards Menu" by Carla Hall
First Course
Inside-out Sammy Jenkins
maple black-pepper glazed bacon, lettuce, tomato mayo, toast
Second Course
Fruits and Cream
spicy tomato soup, basil cream
Third Course
Squid Ink Linguine
julienned zucchini & cucumbers, feta, dill
Fourth Course
Hot Fried Chicken Salad
shredded cabbage, corn grits
Dessert
Strawberry Shortcake Cocktail
strawberry compote, biscuit dippers, whipped cream
RELATED:
Grill-Off Pits NYC Celebrity Chefs Against Chefs Who Cook for Rich People
Who Can Eat 20 Noma Courses Quicker, Bourdain Or Chang?
WATCH: Carla Hall Performs Gymnastics Stunt (With Olympian Gabby Douglas' Help)
Have a tip we should know? [email protected]