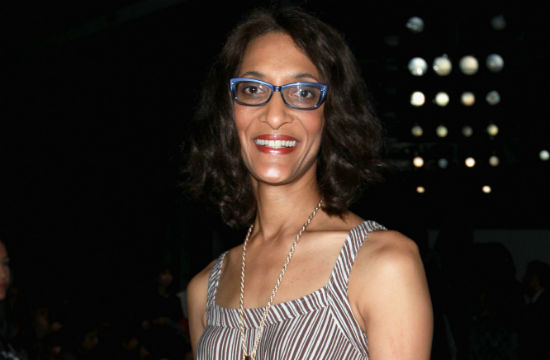 Carla Hall is following up her apparently successful pop-up restaurant night at Burke in the Box with an encore this October. Keep in mind, Top Chef's infamously non-restaurant-employed All-Star has never run her own resto, and came into the Top Chef competition from The Dreaded Catering Background. She was a Top Chef finalist on her first try, but she was invited back to do Top Chef: All-Stars, after which she landed a spot on the hosting panel of The Chew. Again we say: no executive chef positions at restaurants of any kind.
While Carla is a wildly successful TC alum, who never really had any aspirations for opening her own restaurant in the first place (and, thus, we should not judge her for the fact the she doesn't have one), the fact that she's made a name for herself as a TV personality is leading some outlets to call shenanigans on her pricey pop-up night. Much like the last pop-up, which was advertised as a Bloomspot deal, her second one is also being advertised on LivingSocial. The deal includes a four-course meal with cocktail/wine pairings, a giftbag of Carla's Alchemy cookies, a gift certificate for a bottle of wine, and, of course, the Carla photo op.
LivingSocial "deal" price per person: $175.
LivingSocial's advertised "original value" of the experience: $399.
Here's the thing: we attended the first pop-up, and the menu was virtually the same as the this one's, with a few allowances for seasonality. (We had a peach cobbler for dessert; this time around, Carla's serving Banana Pudding Pecan Shortbread with Bruléed Bananas.) Here's the other thing that has people in a tizzy: one of the courses on that menu is mac 'n' cheese and another is meatloaf. So the alleged value of mac 'n' cheese and meatloaf is $399, according to LivingSocial.
Now, as tasty as the meal was, as much as we enjoyed it and all the hobnobbing with Carla, as out-of-this-world as the cocktails were, this meal is not worth $399. At the time we went, the pop-up night was going for $135 with drink pairings. Pricey, but fair for the cocktails alone. The food definitely fit Carla's "it's like you're being hugged from the inside" aesthetic, but it isn't really even worth the deal price of $175, unless you're getting a gift certificate for a truly spectacular bottle of wine. The "inside out mac 'n' cheese" is a mac 'n' cheese ravioli that's almost too buttery to bear (but certainly a great first bite). The hot chicken bite is just that — a bite of hot, dry chicken (although, it comes with a charming origin story told by Carla, herself as it's being served). The meatloaf, collard greens, mashed potatoes, and creamed corn course was impossibly satisfying, but that may have had something to do with the "15-ingredient sangria" and the house-infused strawberry tequila cocktails consumed with the two previous courses. (Note: strawberry tequila should be the only kind of tequila from now on.)
We should take this moment to mention that we are not food critics, and we are very, very grateful to eat anything anyone puts in front of us (…that's not an invitation for you to be a smart ass and ship us a bunch of testicles, Zimmern). And, as Carla mentioned via tweet, there are surprise courses. On our excursion, they were a (delicious) arancini at the beginning and a (read: several) cake pop(s) at the end of the meal. But $175 a person? Steep. Just over the rip-off line. As for the $399 value? LivingSocial is drunk on strawberry tequila.
For $135, we'd say splurge for the experience. For $175, we say make a yummy meatloaf at home and try to get into a taping of The Chew to say hi to Carla. Just our two cents.
[LivingSocial, The Bad Deal h/t Eater]
Have a tip we should know? tips@mediaite.com