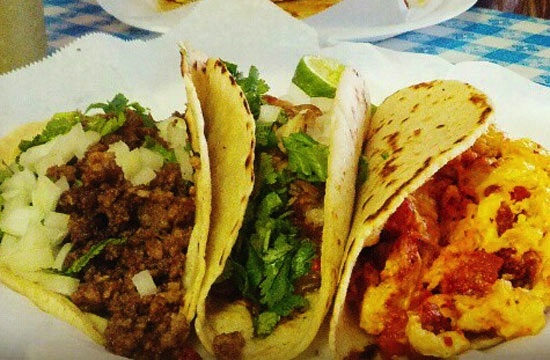 In a New York Times column entitled "Team Taco", Sam Sifton dissects the kitchen tradition of the staff meal, and finds that many chefs fall in favor of the Mexican dish when deciding what to serve. His lyrical description of the "repast" (which he mostly refers to as "family meal") puts it up as possibly the most important moment in a night of service, and one that can change the course of a restaurant entirely.
"If the family meal is lackluster, the service that follows may be as well. A stellar family meal can inspire. It can make a minor celebrity of the staff member who made it. People hunger for a particular dish to come up again on the rotation. They come to work early. Sometimes, as with the "meats on a stick" dinner that Jimmy Bradley serves at the Harrison […] the dish becomes so popular that it ends up on the menu.
Sifton found that "Mexican Day" is the most popular staff meal at the French Laundry, according to general manager Michael Minnillo. Since everything that makes people happy is important to Danny Meyer, the family meals are kind of a big deal in his establishments as well. So much so, that partner and former Union Square chef Michael Romano has recently penned a book on the subject: Family Table: Favorite Staff Meals From Our Restaurants to Your Home. Guess what Sifton chose to cook? Okay, don't guess. It was tacos.
We also had an inkling that staff meals were highly regarded among the restaurant-working ilk, so we asked a few well known chefs what their knife-wielding staff favor around the dinner table (or bar, or sitting on a crate in the walk-in). Surprisingly, they didn't all say tacos.
"Closed on Sunday chicken sandwiches."
So the staff comes in on their day off just to eat chicken sammies? That's devotion to the meal.
"Our culinary director Joel Harrington turns out some incredible meals. Favorites include breakfast chilaquiles with salsa verde and smoked chedder or spicy sausage and beans with roasted potatoes. Later in the day, our staff loves meatloaf, shepherd's pie or baked pastas."
Hm. Chilaquiles are a slightly taco-ish offering.
"When I had restaurants the staff always begged for my One Pot Sticky Chicken Wings. I did too."
'Oh Andrew, can't we pleaase have the sticky wings tonight?' 'Oh, sure, Andrew. Let's.'
"Red chile pork tacos at Mesa Grill."
Well, you don't count.
"Cake."
Oh right, because your restaurant is a bakery. But definitely not tacos, right?
For more straight-from-the-source insights, see what shoes chefs wear in the kitchen, and cue up a weekend playlist they curated.
[h/t The New York Times]
Have a tip we should know? tips@mediaite.com