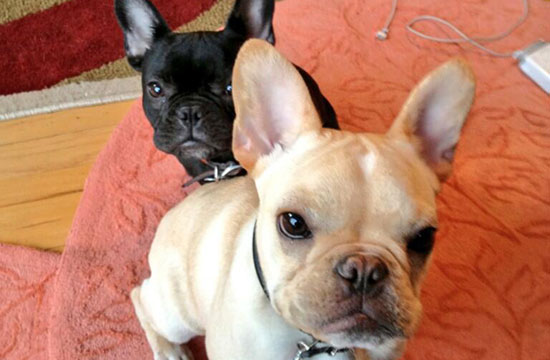 Yesterday, we alerted the world to Ferran Adrià's search for a French bulldog to serve as a model for the el Bulli Foundation's logo. (Why does he want a French bulldog logo? We've explained it here. Also, widdle smooshfaces.) Frankly, we expected to see dozens of photos of bulldogs whose owners thought could represent the best restaurant in the world.
What we didn't expect: chefs freaking love French bulldogs.
We got slammed with Frenchie photos from chefs around the country — local or famous, notorious or quiet — and spent yesterday afternoon buried under an avalanche of cute, as if we worked for I Can Haz Cheezburger. Would you like to meet the iddle widdle puppehs whose masters are chefs? Would you believe that some of these pups are actually named after famous chefs? Because it's true. There's a puppy named Adria somewhere in the slideshow below.
Wookit the widdle dawgs, then vote for your favorite below. But please note: we have absolutely no say over which dog will be Ferran Adrià's Next Top Dog Model — but we'll sure as hell promote them publicly.
And if you're a chef whose French bulldog has a certain je ne sais quoi, tweet your sweet puppy's photos to us using the hashtag #FerransNextTopModel.
Gallery unavailable


Follow Tina (@Tina_Nguyen) on Twitter
Have a tip we should know? tips@mediaite.com