Young Honolulu Chef Opens $20M Restaurant With Blank Check From Japanese Billionaire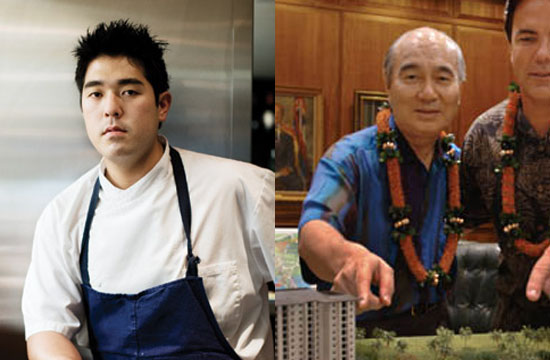 Though Hawaii's been the epicenter of its own food renaissance, fueled by a thousand food trucks and casual restaurants, the same evolution hasn't been seen in its fine dining scene — until now. With the opening of Vintage Cave in Honolulu, helmed by the 29-year-old Chris Kajioka, investor Takeshi Sekiguchi wants to bring a nationally-renowned restaurant to the islands — even if it takes millions and millions of dollars to do so.
A real life Chairman Kaga, Sekiguchi is every chef's dream: a self-described "crazy"  real estate developer, he's given Kajioka $20 million dollars, completely free reign (and a limitless credit card) to do whatever he wants with his restaurant. The Honolulu Magazine profile of the upcoming Vintage Cave lists some mind-blowing figures: $20,000 for a Rational oven. $100 for a single fish. Plates that cost $500…each. (This is to say nothing of the restaurant's decor, which includes 18 original Picassos from Sekiguchi's billion-dollar art collection. Did we mention that this is a 32 seat restaurant?)
Kajioka, for his part, boasts intense passion, a Culinary Institute of America degree, and an impressive number of stints at top restaurants, but it's nearly unheard of for a 29-year-old chef to get this kind of investment. It's even more preposterous for him to get such an offer from a man who has never eaten his food. Sekiguchi admits that this is an insane idea, but insists that it's all for the sake of elevating a talent he once read about in a Honolulu Magazine profile:
 "It doesn't matter how much it costs, even if it's $10 million or $100 million," Japanese developer Takeshi Sekiguchi (the money behind Vintage Cave) says through a translator. "I am persistent and am going to sponsor Kajioka. To create culinary art, you need a big sponsor. I really want to bring Chris out into the world. This restaurant is to be the best in the world. That's our responsibility."
Plus, he added, there's the benefit of the two of them having this in common (as evidenced by their first meeting):
When they first met in person, Sekiguchi told Kajioka, "I don't know you. I only know you from articles. But I am not interested in your food. I am very, very, very interested in you, personally."

Kajioka asked, "Why me?"

"Craziness. I'm crazy, you're crazy. Crazy like crazy."
Vintage Cave, which hopes to be the best restaurant in the world (how else do you explain the money?), will open soon, with tasting menus starting at $295. And even with that pricetag (not to mention the cashflow from wine stored in ancient Greek amphorae), the restaurant will still lose money. Evidently, Sekiguchi doesn't care.
Have a tip we should know? tips@mediaite.com