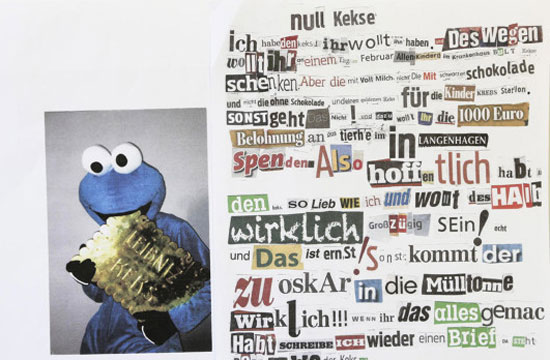 Remember that time someone stole the giant gold cookie stolen from a German cookie factory sign? No one knows yet how it was stolen, but we now know who stole the cookie. OR DO WE?
The image above is a ransom note for a big, gold cookie stolen by a man who's calling himself the "Cookie Monster" (for obvious reasons.) The Huffington Post reports that the note was delivered to a local newspaper in Hanover, and demanded that Bahlsen donate milk chocolate cookies to a local children's hospital. (We assume that chocolate chip cookies will only enrage him.)
In addition, Bahlsen must take the €1,000 ($1,347) reward they offered for the capture of the "Krümel Monster," and donate it to a local animal shelter. If his demands are not met, the gold cookie "will wind up in the trash with Oscar the Grouch."
Bahlsen, however, will not be intimidated by thugs. "One cannot forget that what we are dealing with here is a case of theft and blackmail," Björn-Oliver Bönsch told said local Hanoverian newspaper. "Bahlsen has already done a lot for our hospital — it doesn't need to be coerced in this way."
But the real victim here is Cookie Monster, he of the blue fur and sometimes foods. When asked for comment, he responded via twitter:
Cookie Monster: Me no steal the golden cookie. But me willing to help find real cookie thief!bit.ly/VlS0VD

— Sesame Street (@sesamestreet) January 29, 2013
A good monster has been slandered, folks! This "Krümel Monster" is a sociopathic imitator of our beloved Cookie Monster, a cuddly pile of felt and fur who has taught us how to dress like Mario Batali, appreciate great literature, and share with others through song. And to now have his name besmirched by some German who made his outfit with a tarp and plastic bowls he fished out of Oscar's trash can? A travesty, people. A travesty.
Have a tip we should know? tips@mediaite.com