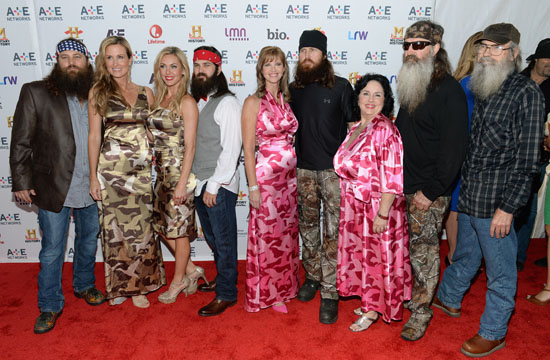 Call it the Gay Marriage Cluster-Duck: After Phil Robertson, the patriarch of the Duck Dynasty family, made some highly controversial comments in an interview with GQ, not only did his home network suspend him, but also Cracker Barrel, which sells Duck Dynasty items in their stores, was all "Uh, let's not be associated with this guy" and pulled the items off their shelves two days ago.
And, um, then they didn't? As Yahoo! News reports, the Southern-based restaurant chain just reversed their decision, claiming that their actions "offended many of our loyal customers" and that a social media campaign had helped them change their minds. They wrote this flip floppy mea culpa on their Facebook page:
You told us we made a mistake. And, you weren't shy about it. You wrote, you called and you took to social media to express your thoughts and feelings. You flat out told us we were wrong.
Followed by:
We respect all individuals right to express their beliefs. We certainly did not mean to have anyone think different.
We firmly believe that they're right on principle. Much like Chick-fil-A when they refused to back down from their founder's statements against homosexuality, Cracker Barrel is totally allowed to make whatever business decision they'd like and support whomever they so choose. (Except for when the person at the center of the controversy is doing a shitty job at responding to the controversy. Remember Paula?)
But seriously, pick a gun and stick to it, guys.
[Yahoo!]
RELATED:
WATCH: Chick-fil-A CEO Reverses Reversal, Says That Company Still Supports "Biblical Families"
Paula Deen: Corporate Endorsement Was A Sign From God To Go Public With Diabetes Diagnosis
Paula Deen Sponsorship Watch: Who's Firing Her Or 'Monitoring The Situation' (UPDATED)
Have a tip we should know? [email protected]