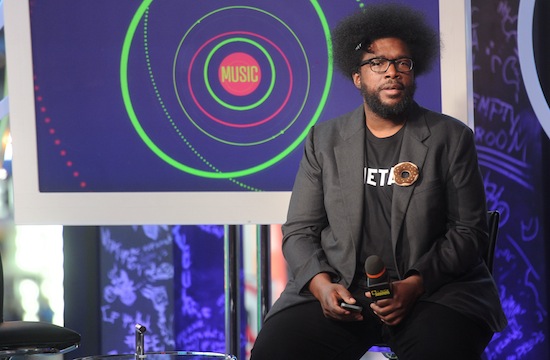 We're sure Late Night guest appearances have been scheduled for more tenuous reasons — like maybe Jimmy Fallon lost a bet to Chris Hardwick one time and then had to allow him to come on the show to talk about doing horrible standup — but it's now been confirmed that Dominique Ansel will be a guest on the show later this month, because The Roots drummer Questlove can't come up with any other way to get a Cronut.
Questo reached out to Ansel via Twitter, and told the New York Post that he got just the response he was hoping for, "Dominique said, if he comes on the show and his cronuts are featured, he'll bring us 200."
Even though he once challenged David Chang to a fried chicken cook off (Chang won), and has recently opened a stall in Chelsea Market devoted to the drumstick, Questlove says he's been trying to watch his weight, a prospect not made any easier by famous foodie Jimmy Fallon. "I tell you, walking through the hallways of Fallon with all of [Christina Tosi and David] Chang's cookies. Blueberry and corn cookies, looking at me everyday, has not been easy," he says.
But, as any calorie-counting New Yorker will tell you, Cronuts don't count: "I'm down to break my diet for two cronuts," says Questlove. "Tariq [Trotter, AKA Black Thought] tells me it's the best thing he's ever had."
How'd Black Thought get his hands on a Cronut when Questlove had to barter Jimmy's air time? "He actually got his assistant to get up at 5 in the morning to stand in line for cronuts," he says, "I am not that abusive."
[h/t New York Post]
RELATED:
David Chang To Serve Questlove's Drumsticks For One Night And One Night Only
WATCH: Danny Bowien Makes Jimmy Fallon Cook With Absurdly Huge Chopsticks
Man Seeks 'Cronut Slut' On Craigslist In Exchange For Sexual Favors
Not Even The Director Of The James Beard House Can Get Cronuts
Have a tip we should know? tips@mediaite.com