Daniel Boulud Admits USA Was Outcooked At Bocuse d'Or, Dishes On His Episode Of Hooked Up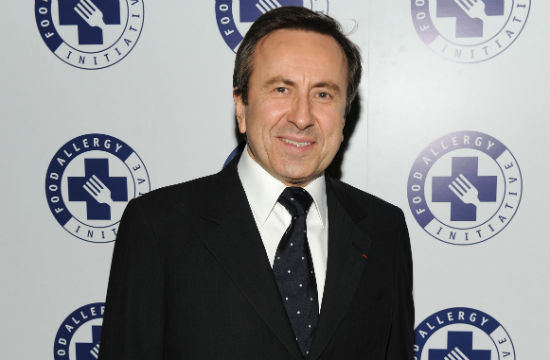 This weekend, Daniel Boulud is hosting the official East Coast Oscars viewing party, held by the Academy of Motion Picture Arts and Sciences, at his eponymous 3-Michelin-starred New York restaurant. It will be the only official party sanctioned by the Academy other than the official party in Los Angeles, catered by Wolfgang Puck. Naturally, Boulud is treating it like an OG East Coast/West Coast throwdown, where he's Biggie Smalls and Wolfgang is Tupac, except instead of dope rhymes, they spit affably European-accented English. Word.
The menu's signature cocktail is a Red Carpet, which is basically a champagne and St. Germain, plus pear infused vodka over a pomegranate gelee for color. Then, each of the canape courses is inspired by a different film nominated — the Les Mis course is rustic finger sandwiches, Life of Pi is a tiger shrimp samosa, Amour is a pomme d'amour, except instead of an apple rolled in sugar, it's a stuffed cherry tomato dipped in cranberry gelee. You know. It'll be just like your Oscar party food.
We, of course, were dying to know about his episode of Tom Colicchio's YouTube show Hooked Up, which the pair shot together earlier this year, and his deepest, darkest feelings about the USA's dismal 7th place finish at the Bocuse d'Or. Check out our Q&A below for more.
The Braiser: Can you tell us anything about the episode of Hooked Up you shot with Tom Colicchio? The trailer left a lot to be desired. It's basically just you two and a fish.
Daniel Boulud: I had an amazing trip. What was amazing was that Tom told me a couple of days before, and, by coincidence, I was in Florida. I said, "I'll come! I'm very touched that you've invited me to come fishing, and I'm going to be just 100 miles north of there so it's going to be very easy. I'll just have to fly down to Miami."
We had so much fun. We left early in the morning, and we caught a good dozen or more fish. I wanted a Marlin, but we couldn't find one, so that was my only disappointment. But I hope I was a good fisherman considering it's a very athletic activity! Afterward, I made him a little ceviche, a little one-two-three ceviche. It was good! We finished the ceviche and kept the tuna for dinner. But that was I unrecorded I think. We made a wonderful diner for ourselves together. We had the chance to really lay back, relax, and cook a wonderful meal together. We didn't know what we were cooking; we were just improvising and being very spontaneous, and making a wonderful meal at the end of the day.
Let's talk about the Bocuse d'Or. You were the liason to the United States, and you arranged for Thomas Keller to coach the US team. How do you think it went?
Thomas and myself, we're all very involved with that. We left it to the chef and his commis. And as much as we thought he had a very good game plan, and a beautiful execution and all that, we were penalized in Lyon by one. We should have finished 6th, but we finished 7th because we had an issue with the pacojet. The food for the pacojet wasn't exactly identifiable. But besides that, I think every one in front of us cooked a better dish. We deserved the position we got.
So they were just flat-out out-cooked. Do you think the odds are stacked against The States in a competition like this?
The problem is that we are a big country with a small position in the vote. So sometimes it's not always in our favor. As for this whole "[mockingly] Ech, les americains…" attitude? We'll have to blow them away next time to be on the podium. It took Japan 28 years to [medal], so there is still hope for us.
Have a tip we should know? tips@mediaite.com