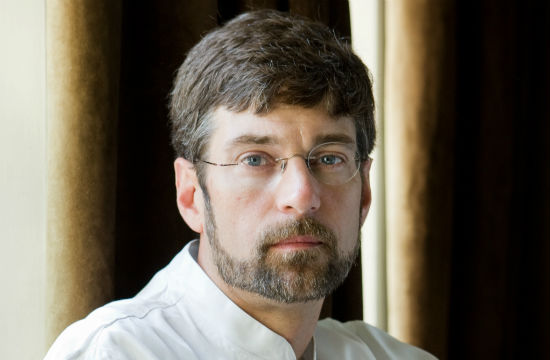 By this point, we're sure you've picked up on the fact that we at The Braiser are not about the food. We're not about the restaurants. We're especially not about the reviews. We're about the chefs. All that celebrity dishy-ness behind the food and the restaurant and the Michelin stars fascinates us. Sure, we looove food, and brag about the fancy places at which we are sometimes are allowed to eat, and will judge you if you "give your stars back," Marco Pierre White. But, ultimately, we want to know what the people serving up the food are all about. Thus: Dining Diaries was born.
Dining Diaries will ask one chef each week about his or her personal favorite dining spots. Not recommendations, or hawking their co-star's newly opened whatever as a PR favor. But where a celeb chef goes to eat or drink or brunch or late-night snack or hangover binge on his own time.
This week, in honor of the Big Apple Barbecue's arrival in New York, we nabbed the 2012 James Beard Award winner for Best Chef: South, Chris Hastings. He'll be at the BABBQ, serving up baked oysters to give us a little taste of Birmingham, AL, where he's the chef/owner of Hot and Hot Fish Club. Chris is also a member of the Bocuse d'Or USA Foundation's Culinary Council (fancy!), and author of The Hot and Hot Fish Club Cookbook, A Celebration of Food, Family and Traditions. Oh, right, and then there's the small matter of beating out Iron Chef Bobby Flay in Kitchen Stadium's "Battle Sausage." NBD.
So, we asked this Southern gentlemen, where does he go:
To get an after work nightcap: The Garage Cafe is a local dive bar made famous by GQ for being named one of the top bars in America. Not for it mixology or high-end unique liquor selections…just a kick ass dive bar.
For a late night meal: Jinsei Sushi is the first sushi bar in town to import real sushi chefs from Japan.
For your early morning coffee: O'Henry's coffee shop in Homewood is an institution and the bedrock of local anti-Starbucks movement along with Lucy's in downtown Birmingham.
For a weeknight dinner in the neighborhood: Bettola Restaurant or GianMarco's. They are both strong family owned businesses that have a great neighborhood feel and delicious food.
For dinner with visiting friends and family: Ollie Irene, Satterfield's or Stones Throw Bar and Grill. All three are chef-owned by former cooks from my kitchen, and all doing really great regional farm to table cuisine in their own way.
To get your favorite sandwich: Brick & Tin in downtown Birmingham is doing proper sandwiches on proper bread all made in house with a healthy seasonal vibe that is fantastic. Also a former chef from our kitchen.
For a lazy Sunday brunch: SpringHouse is the most beautiful restaurant in Alabama with the next superstar of the Alabama food scene, Rob McDaniel. A true farm-to-table-restaurant that reflects its authenticity and passion for food in a way that separates it from all others. Keep your eye on Rob.
For your weekly grocery shop: V. Richard's is the first family-owned market that came to Birmingham since the advent of the boutique grocery store movement. Great addition to our food community and supporter of all things high-quality and locally produced.
To order Tuesday night takeout: Dave's Pizza is not a Neapolitan artisanal pie, but a great family-run business that kills the chain pizza by a mile.
To while away a sunny Saturday afternoon: Picnic with my wife at the botanical gardens with fried chicken, black eyed peas, cornbread, fried okra and collard greens from the Western Supermarket in Mountain Brooke. Best meat and three within five minutes of my house and the gardens.
To celebrate your birthday: Our lake house on Lake Martin with my wife, the kids and a few close friends. OR the harvest table at the Hot and Hot Fish Club. Tough to go elsewhere without interrupting family time.
Have a local chef you love? Send us an email recommending them for Dining Diaries. We're on it!
Have a tip we should know? tips@mediaite.com