The First Book From Bourdain's Imprint Arrives With An Open-To-The-Public Party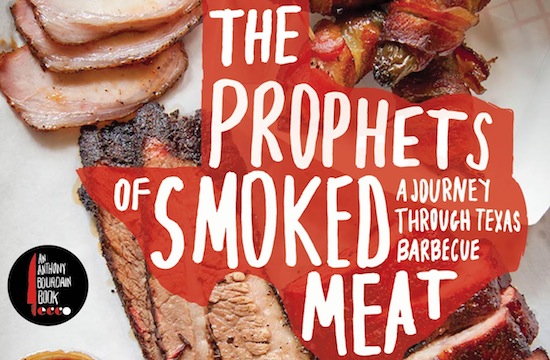 We may have been a bit overly excited, announcing the first title in Anthony Bourdain's publishing arm (Ecco, a HarperCollins imprint) all the way back in November, but now The Prophets of Smoked Meat is nearly here and we're breaking out in meat sweats all over again.
Written by self-proclaimed "BBQ Snob" Daniel Vaughn, who Bourdain hailed as "the Yoda of Barbecue, a man of impeccable smoked meat credentials, known most notoriously as the guy upon whose tireless quest for slow-cooked meat-related wisdom mainstream media shamelessly piggybacks," in the original press release. "With this book," he continues, "we hope, he shall finally get his due as the undisputed, argument ending source of all knowledge." As if landing the coveted first-born spot in Bourdain's publishing venture wasn't props enough, we'll take this to mean the man knows a thing or two and we should all pick up a copy on Wednesday, May 14.
The book, said to be a definitive guide to classic Texas barbecue, features recipes, but also insight into the people and techniques behind our country's favorite pastime food. To celebrate the launch in as fitting a way as possible, Vaughn and Bourdain will be appearing at a BrisketTown "BBQ bash of epic proportion," according to the invite, next Thursday, and you're all invited. It would be pretty hypocritical to launch a down-home BBQ book extolling the virtues of backyard dining, and then have your launch party at a shmancy Manhattan hotel, so nods to the team for keeping things consistent.
The party is going down at Kings County Distillery and will feature live music by a local western swing band (we don't know what that means), and — of course — piles and piles of meat. Tickets range from $55 to $80 depending on the types of swag you get thrown in (a signed copy of the book! a CD of western swing!), and offer you the once-in-a-lifetime chance to rub ribs with publishing magnate, Anthony Bourdain.
Next up in the Ecco series is Roy Choi's LA Son which we're also pretty excited about.
Have a tip we should know? tips@mediaite.com