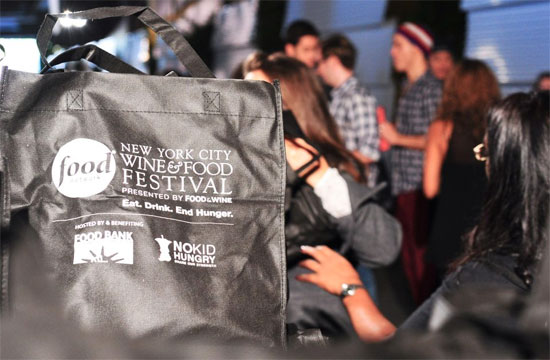 Sometimes we are showered in an embarrassment of riches, and sometimes we just want to let you, our readership, share in our joy. For instance, this weekend we're going to be reporting on the ground at the New York Wine and Food Festival, from October 17th through the 20th — and a few lucky winners can join in on the festivities! (Well, obviously they're "festivities"; it's not called the New York Wine and Food Queue.)
Wait, we can win tickets? To where?! Do I get to meet celebrity chefs?
Absolutely! Here's what you can win, and here's what you need to do:
1) Follow us on Twitter to win two tickets to the Blue Moon Burger Bash on October 18th, hosted by Pat LaFrieda Meats and Rachael Ray, and you and a loved one can stuff your face with burgers made by, well…everyone. 
2) Sign up for our newsletter to win two tickets to a Times Talk on October 19th, where Michael Symon and Mario Batali will goof around on stage and generally be bros.
3)Like us on Facebook and you could win one ticket to Olmeca Altos Tequila presents Tacos & Tequila hosted by Bobby Flay, or one ticket to TimesTalks: New York Times Restaurant Critics, both on the night of October 19th.
This giveaway ends at 12PM EST on October 17, after which we'll randomly select winners and notify them via email, along with instructions on picking up their tickets. Winners must be able to provide their own transportation to and within New York City (don't worry, the food will be worth it.) For more information about the New York Wine and Food Festival, visit their website here.
Good luck, and prepare your stretchiest pants!
Have a tip we should know? tips@mediaite.com