Gordon Ramsay Ruined a Marriage Proposal by Congratulating the Couple Before they Were Engaged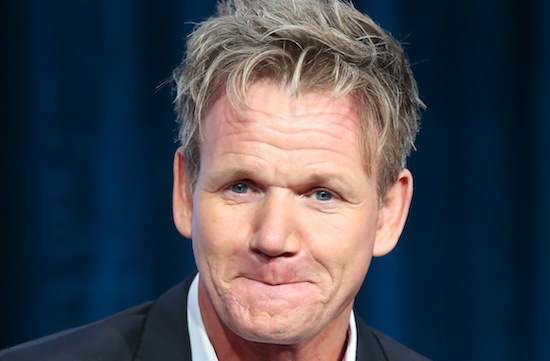 People, this is why you pay attention during English class. You need to learn the difference between "that guy at that table is going to propose tonight," and "that guy has already proposed tonight" when you're in school so that you don't have to learn it the hard way, as a maitre d at one of Gordon Ramsay's restaurants did last month.
Last week, at Vegas Uncork'd, Ramsay recounted the story of that time improper English led him to ruin a marriage proposal by congratulating the couple before the groom-to-be had actually popped the question
According to The Telegraph, he said:
Three weeks ago, one of my maitre d's asked me if I would go over to table seven, who were celebrating their engagement.

So I said: 'Send two nice glasses of champagne over to them'.

When the champagne arrived I went over to congratulate them – and he hadn't asked her!
Whoops. Apparently, the maitre d messed up his tenses. And, while he was on the subject of love, the conversation inevitably turned to food, specifically risotto, and how making risotto is the same as lovemaking. He said:
When you cook a risotto you should be taking your time. Making a risotto is like making love.

You have to take you time, spend about 25 minutes doing it absolutely right. You have got to get close it .

I know men out there who want to rush their risotto and get it done in two minutes – and you know who you are.
[H/T The Telegraph]
–
Have a tip we should know? tips@mediaite.com