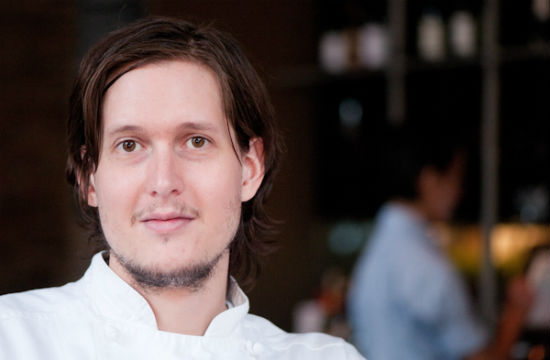 Earlier this week, it was announced that the executive chef of Graham Elliot's eponymous restaurant Andrew Brochu had quit, leaving Graham to helm the kitchen with corporate executive chef Merlin Verrier and pastry chef Bryce Caron. Now, Caron has announced that he, too, will be leaving the resto. Here's the scoop:
Apparently, after Brochu's departure, Graham and Merlin wanted to revamp the menu with a 5-, 10-, and 15-course tasting menu, in addition to making everything available an a la carte. Bryce thought adding the a la carte option was superfluous, which affected him because he was looking to move into Brochu's position after his departure in an effort get back into savory cooking.
Graham didn't seem to be receptive either to hiring Caron as the replacement exec chef right away or nixing the a la carte menu, and so the tension came to a boil, and Caron walked out.
"Everyone in the restaurant should be a team and if we're not going to work together as a team then I don't feel comfortable being a part of that," he told Eater. "If they want to revert to their old ways, then I don't feel comfortable with any of that."
Whatever "their old ways" means…
Graham Elliot countered with the following official statement (Graham's big on the official statements these days):
"Bryce let it be known that he wanted to take Andrew's place to be the chef. We let him know that we weren't comfortable making that decision now and wanted to see how things evolved over the next month or so. Everything seemed OK. Maybe 15 minutes after that he told Merlin he couldn't work there and left. Bryce is super talented and that's why we brought him on to the team. We had big plans for his future and wanted to see him grow from pastry to savory. We never hold grudges and still wish the best on his future endeavors."
PS. We haven't talked about it yet, but can we now talk about how Elliot's corporate executive chef is named Merlin? If he leaves, Graham Elliot is surely doomed.
PPS. Can we just say we're shocked David Martinez hasn't been called in from g.e.b. or Grahamwich (wherever he accepted a position) to take over? Shocked. How can you not bring in plastic-squeeze-bottle-on-the-hot-griddle-top guy?! …Oh.
[Eater]
Have a tip we should know? tips@mediaite.com