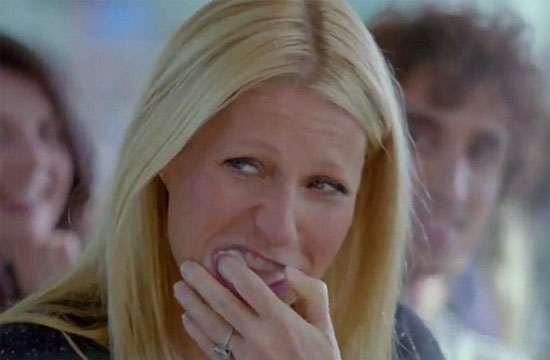 Today is a special day. Today, we laugh at the follies of Gwyneth Paltrow, whose expensive "lifestyle brand" lifestyle has been discovered to be unsustainable. Today, we shall show you that Goop is in serious debt, because it was a rich people thing for rich people, and even rich people don't want to pay money for those things (which is, really, the point of rich people.)
RadarOnline got their hands on Goop's corporate filing statements from FY 2012, which reveal that the company is $1.2 million in debt, and operated at a net loss of $298,512 in 2012 alone. The company itself made roughly $1.8 million that year, but when a significant percentage of that profit comes from a Groupon sale, that doesn't say much about the financial viability of the Goop.
So how are they that much in the hole? Part of it may come from the salaries of Paltrow and her CEO Sebastian Bishop, which totaled $587,653.25, or about 1/3rd of what the company made. (A third, guys.) Among other absurd expenditures: the infamous Goop newsletter, which cost $79,961; and a $2000 donation to the David Lynch Foundation to teach children the art of Transcendental Meditation (that's a real foundation).
While the company has proven that it can make money, it's going to have to make a lot more money in order to pay back the $1.2 million it owes creditors by the end of 2013. Which was about four months ago. Oh, dear.
Insert joke about conscious uncoupling here.
RELATED:
Mario Batali Interviews Gwyneth Paltrow for Medium; It's as GOOP-y as You Think
WATCH: Martha Stewart Disses Gwyneth Paltrow's Inferior Life Coaching Skills
WATCH: Gwyneth Paltrow Reveals Thug Kitchen Obsession On Rachael Ray
Have a tip we should know? tips@mediaite.com