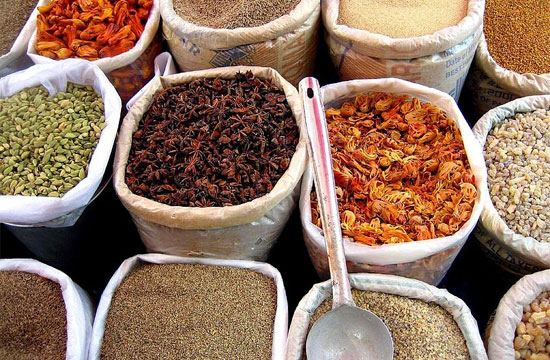 The newest food issue of The New York Times Magazine ran a profile of Lior Lev Sercarz, the proprietor of the spice temple La Boîte. And yes, "spice temple" is an accurate description: it's the place where Eric Ripert, Marc Forgione, and countless unnamed others around the world get their secret spice blends for their restaurants. If you want to pretend that you are a Renaissance noble and not working in an office on Friday, this is probably the article to read right now.
But even more freaky than the description of Sercarz, this Spice Merchant From The Old World, are his potent olfactory powers. That's right: his custom spice blends will enhance your memory. The author doubted this when Sercarz presented him with a custom-tailored mixture of spices intended to evoke his Soviet childhood:
I grew up on the periphery of Moscow during the waning years of the Soviet Union, and Lev Sercarz chose ingredients that spoke to him of Eastern Europe but also, he said, of New York: poppy seeds, coriander, sesame, paprika, caraway. He named it Stavia, a play on the Latin name for the black nigella seeds that dotted the rust-colored mixture. He instructed me to put it onto nearly everything.

At first, I had to admit to disappointment. Compared with more exotic blends inspired by Turkey and Indonesia, Stavia tasted — if you can say this about a taste — homely….Then, on Day 3, I noticed that the Stavia was affecting my mind. As I ate, my brain began to regurgitate childhood memories. First there was my mother's beef flank, simmered in gravy to a punishing doneness; then the smell of a sweet clear brew, dispensed from Moscow store counters, called birch juice; and finally I recalled mushrooms. My great-grandmother and I foraged for them around the polluted lake in the village where she rented a cabin in the summers, and afterward we combed the woods that ran along the wheat fields of the collective farm.
Okay, that's beyond exceptional and borders on freaky. Thank god there's science to explain it:
When I spoke to Srini Pillay, a psychiatrist at Harvard Medical School who studies the neurological effects of spices, he told me that olfaction is the only sense that communicates directly with the cortex in the brain without pausing at the relay station of the thalamus. "Smell has a very potent effect on the brain and, as a sense, it's very primitive," he said.
It's not witchcraft, it's science. Spice science.
Have a tip we should know? [email protected]