Hung Huynh On VIPs, TV Chefs, And The Sad State Of Vietnamese Food In New York City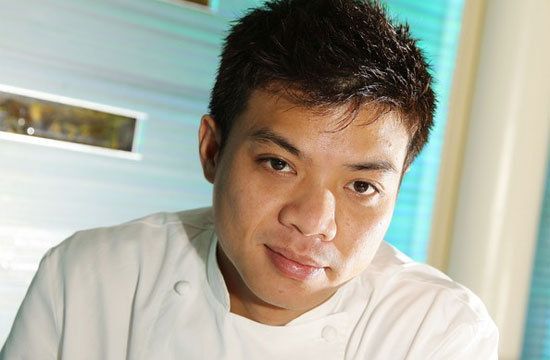 Did you forget about Top Chef Season 3 winner Hung Huynh? That's all right, because while you were looking at some other whizbang chef on television, Huynh's been quietly building a small restaurant empire. With his Meatpacking District restaurant Catch attracting sexy VIPs for months, Huynh decided to open two restaurants at the same time: The General, a 300-seat restaurant in NYC, and another Catch in Miami. We sat down with him soon after the opening to chat about both, as well as some more personal subjects.
You're opening two restaurants at the same time — one in New York, and one in Miami — which is not an easy task. How's that been going for you?
It's going pretty well! We're staying pretty busy. Miami is doing pretty well, because it's our second restaurant. We kind of already had an idea of what we can do already, which made it look easier — the Miami part. New York — The General is a pretty smooth opening, and the bar is going well.
Can you explain your decision to open The General? You already have a successful restaurant here. Are you expanding that concept? Are you going in a completely different direction?
Catch is based on seafood — it's a contemporary, globally-inspired seafood restaurant…And The General, it's the same idea; everything's meant to be shared — hot and cold items, big items. Lots of influences from Vietnam, China, Japan — much different.
One of the stories we covered on our site involved you having Pippa Middleton as a guest. Was she any different from other VIPs you've hosted?
I think we have so many high profile celebrities and important people making appearances that it's normal. It's just another normal night for us. We treat everyone the same here anyways. It's never, like, "Hey, there's a VIP at this table or that table." I don't care. I see them all as guests.
So what's next for you? You've got it pretty good so far.
(laughs) I don't have it that good! I mean, [my life] sounds glamorous, it sounds like everything a chef could want. But I think in the end we have to work harder, and even more often. I have a lot of restaurants under my belt. But keeping up with the quality, that's the hard part for any restaurant, any chef, I think. So it's not easy, it's not more glamorous, it's not more money — it's working hard, having more employees, having more things to worry about.
Is that part of the reason why, unlike a lot of other Top Chef winners (or even Top Chef contestants), you've shied away from doing big food media projects?
Well, I'm not going to be something I'm not. I'm a chef. I cook. I work in a restaurant. I feed people, I run and manage a team, and that's what I do. Being on TV? I'm not going to take a day off and try to be a celebrity chef on TV, because then my food sucks. You know? [If I'm not there, then] I don't know what's going on in my restaurant. Like, today I was at two of my restaurants evaluating my employees.
Do you mind if we talk about Vietnamese food for a bit? Because it's sort of a big deal for me.
Oh, sure! Totally.
What always bothers me about Vietnamese food, particularly in New York, is that one, there's not that much good Vietnamese food in the city at all, and two, whenever people try to tackle it, it doesn't particularly resonate with a majority of people.
You know what? This has always bothered me too. It really pisses me off, actually. New York City has the worst Vietnamese restaurants in the world. Though there is one good one I must promote, because I go there all the time: Co Ba [in Chelsea], and they actually serve pretty decent Vietnamese food. Like, actually decent. Their pho there is amazing. It tastes amazing.
Thank you.
Yeah, you gotta go there. But I wish — the last person who was really bringing Vietnamese food to this city was Michael Bao Huynh, but I think he just left to go back to Vietnam.
Right, he was the last person to try elevating it in NYC. But I dunno — can it be elevated? Should it be?
Oh, definitely. It can, and it will, and I'm gonna make it happen. One way or the other, I'm doing it…so far the only thing everyone knows is pho and banh mi, but I'm gonna make it happen. That's my promise.
Have a tip we should know? [email protected]