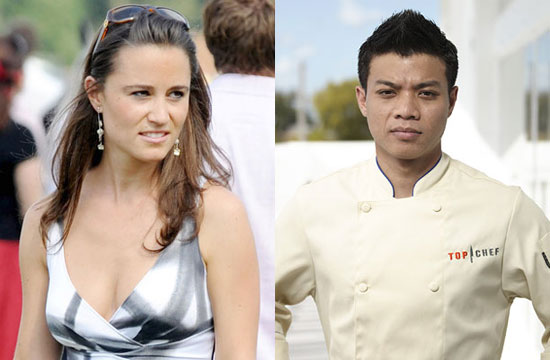 This weekend, Pippa Middleton visited New York City and went to Catch, the restaurant of Top Chef season 3 winner Hung Huynh. Wearing a "sleek, teal green, knee-length wrap dress," Pippa and her friends apparently stayed at his restaurant in the Meatpacking District for an hour, according to the gossip hawks at the New York Post.
However, during the time in which they and their sources stalked her relentlessly, the Post spent very little time trying to connect her romantically with Huynh, as they did with one Andre Balzas, a "dashing hotelier" whom Pippa was spotted dining with in the Hamptons.
As one of the most eligible bachelorettes in the world, Pippa is obligated to be paired with every male she comes into contact with, except for Asian chefs at New York City restaurants, by gossip writers. For instance, from her recent dinner with Balzas, ostensibly to "talk business" about their shared "interest the hospitality industry," comes this breathless rumormongering:
"Pippa was wearing red jeans and a white top. She was dressed sexy, but not too sexy," a Hamptons spy told the Post about their dinner. The Post did not use the words "flirt central" to describe any sort of interaction between Pippa and Huynh over scallop dumplings.
New York Post, you are being called out right now for failing your duty as gossip columnists to find a romantic link between Pippa Middleton and Hung Huynh. Come on. They met at a restaurant called "CATCH". Your snappy little romance pun was built right into the story. Here, we'll write your lede for you:
Top Chef Hung Huynh spent last night trying to lure the beautiful socialite Pippa Middleton at his restaurant, Catch, where she was hooked by the scallop dumplings he used as bait.
See, wasn't that easy?
[NYP]
Have a tip we should know? tips@mediaite.com